DANCE JOBS
Don't see your listing? Add it now…
ARTISTIC DIRECTOR

Description:
The Australian Ballet is Australia's flagship ballet company and one of the world's leading ballet companies. Founded in 1962 and comprising 80 dancers, its diverse repertoire is built on the tradition of classical ballet and the best of contemporary ballet. Based in Melbourne, the company delivers over 240 performances annually in Australia and on regular international tours and has established a national and international reputation for outstanding performance excellence through its vision of "caring for tradition and daring to be different".
ARTISTIC DIRECTOR
With the retirement of David McAllister AM in December 2020, the Board of The Australian Ballet is now seeking to appoint an inspirational, internationally- recognised person with outstanding artistic and leadership qualities to serve as Artistic Director and to guide the company's continued growth and success.

The ideal candidate is a confident, articulate and empathetic leader who can deliver a bold, innovative and compelling artistic vision to advance the company and its dancers consistent with the company's mission and goals.

The person will be able to demonstrate an affinity for Australian culture, identify and nurture talent, have a keen results focus and excellent stakeholder management skills.

Additionally, the ideal candidate will possess a range of skills and attributes which include the ability to:
– Be the public face of The Australian Ballet and uphold the artistic reputation and standards of the company
– Leverage strong international contacts to secure premium productions and artistic talent
– Select, engage and develop outstanding dance and artistic talent
– Attract both new and loyal audiences to the art form
– Work in close partnership with the Executive Director to deliver exceptional programs and financial sustainability
– Collaborate with The Australian Ballet School to ensure a pipeline of future talent
The Artistic Director role will be based in Melbourne and will regularly spend significant time in Sydney and other national and international touring locations. For further information visit www.australianballet.com.au

Confidential enquiries should be directed to Egon Zehnder on +61 3 9678 9600 or email: mel.search@egonzehnder.com

Interested candidates are invited to submit a covering letter and a detailed resume via the above email address on or before 25 October 2019.
Contact:
p) 03 9678 9600
w) www.australianballet.com.au
e) mel.search@egonzehnder.com
Elance Adult Ballet School - Teacher Position
Description:
Elancé Adult Ballet School seeks a mature and passionate teacher to join our staff. Applicants must be willing to work at both the Flemington and East Hawthorn studio. Teaching adults is remarkably different to teaching children. The ideal teacher is able to create a friendly and enjoyable class atmosphere whilst upholding the professional standards appropriate to the art form. Elancé conducts a broad range of classes, from students who have not previously studied ballet to experienced dancers. The successful applicant must be comfortable teaching open classes at all levels. To apply please contact Dianne Harrison, Principal, via email.
State: Victoria
Contact:
w) www.adultballet.com.au
e) dianne@adultballet.com.au
TRAINEE DANCE INSTRUCTOR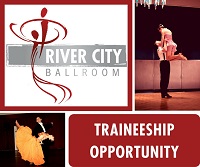 Styles: Ballroom, Swing, Tango
Description:
A sustainable career in dance under two of Australia's leaders.

River City Ballroom is Queensland's premiere independent studio for American Style Ballroom. Directors Sue Gillingham and Dane Berry are professional performers, sought-after coaches, industry leaders, and the first qualified independent examiners in Australia.

Our dance business provides individualised tuition for adults of all ages, both for social dance and for choreographed performance. Our highest priority is to offer a respectful, supportive, and joyful learning environment for our community of students and teachers.

We have an opportunity for a male trainee to join our studio in permanent full-time employment. Dance experience is helpful but not essential. If you are a good fit for our culture and community, we will provide you with intensive and ongoing coaching in dance, instruction, choreography, and performance, along with other aspects of our work.

Please share this advertisement with anyone you think may be appropriate. For full details, and to apply, please see our advertisement on Seek.
Location: West End, Brisbane
State: Queensland
Contact:
p) 0450 832 623
w) rivercityballroom.com.au
e) info@rivercityballroom.com.au
Acrobatics teacher
Styles: Acrobatics
Description:
Magenta's School of Dance is looking for a qualified acrobatics teacher to teach children from ages 4 and up on Saturday mornings, with the potential of week nights. This role will be expected to teach new tricks and skill to students. All applicants must have a warm and friendly nature while still managing discipline and control. Checklist • Must have previous experience working with children • Must have working with children's check • Must be a qualified acrobatics instructor • Must be punctual • Must be patient and good with children of all ages
Location: Werribee
State: Victoria
Contact:
e) magenta_raine@hotmail.com
Ballet Teacher
Styles: Ballet, Contemporary
Description:
Needing a ballet teacher to expand our little studio.
Location: Devonport
State: Tasmania
Contact:
e) Techstepsdance@gmail.com
Ballet teacher needed
Styles: Ballet
Description:
DAAM School of dance in Blackburn South is looking for an experienced, skilled Ballet teacher-choreographer for our Thursday classes this year 3-7:30pm teaching students from Pre-Primary to level 3, 11-14yo. (03) 9939 5689
Location: Blackburn South
State: Victoria
Contact:
p) (03) 9939 5689
Contemporary Teacher
Styles: Contemporary
Description:
Ranges Academy of Performing Arts requires a passionate dance teacher for children ages 7+ Must be aligned with non-competitive dance practices & teaching. Must be committed to encouraging youth into dance.
Location: "The Hills" Dandenong Ranges
State: Victoria
Contact:
e) rangesacademy@gmail.com
Dance Teacher - Kids with Special Needs
Styles: Ballet, Jazz, Hip-hop, Modern, Musical Theatre, Stretch & Strengthen, Contemporary
Description:
Are you an experienced dance instructor who's great with children? Are you creative, adaptable, and able to work with diverse abilities and needs? Switch Dance Community offers classes for people aged 5-55yrs with diverse abilities. Our students are passionate, curious, expressive, fun, opinionated, and everything in between! We're looking for a vibrant team player who can plan classes, run a range of movement activities, and rehearse for performance, all with the support of a co-teacher and volunteers. We break for school holidays, and finish after our concert in November. Please get in touch to discuss your potential involvement/availability. Switch it up in 2020!
Location: Waverley
State: New South Wales
Contact:
e) switchdancecommunity@gmail.com
Female & Male Ballet Dancers Required
Styles: Ballet
Description:
Female & male classical ballet dancer required (teenager-young adult) for syllabus filming. This is a paid job. Must have very strong ballet technique including pointe work (female), beautiful classical presentation and be able to read exam syllabus. The successful applicant will need to be available for a full day of filming on 2/7/19. Interested parties please email statedanceassociation@gmail.com
Location: Hallam
State: Victoria
Contact:
e) statedanceassociation@gmail.com
Teachers for Dance Studio
Styles: Ballet, Jazz, Hip-hop, Pilates, Yoga, Stretch & Strengthen
Description:
Australia New Talent is looking for teachers for the following: Adult: Yoga, Zumba, Body dance, Palates, Jazz Applicants should have a passion towards dance and teaching, teachers are expected to be responsible for leading classes for small groups of approximately up to 12 participants. We are looking for teachers who are creative and are able to create a friendly and enjoyable class atmosphere that encourages individuals to be motivated and engaged. Those who are passionate and would like an opportunity to teach at our studio. Please contact us and forward your resume to the following email: australianewtalents@gmail.com
Location: Wentworth Point, NSW 2127
State: New South Wales
Contact:
e) australianewtalents@gmail.com
Don't see your listing? Add it now…