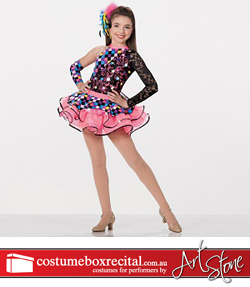 Want to make an impact? This is the costume for you! Hot pink lycra with overlay of black stretch lace covered in large holographic spangle sequins, multi-coloured checkered lycra and rows of hot pink skirt ruffles trimmed in black sequins. This one is sure to make a statement! Matching mitt and feather headpiece included free!
Available from XSmall Child through to XXLarge Adult sizes.
Costume Box Recital provides access to a fabulous range of dance costumes to Australian Dance Studios at wholesale prices. Costume Box Recital offers exceptional quality, a comprehensive range, competitive pricing, outstanding customer service and unique design to cater to your dance costume needs. Whether it is for professional or amateur performances, Costume Box Recital will work with you to access the dancing costumes that best meet your requirements.
Costume Box Recital
10 Clearview Place, Brookvale NSW 2100
Tel. 02 9905 6387 Fax. 02 9905 6386
Email. info@costumeboxrecital.com.au
www.costumeboxrecital.com.au