2014 Australian Dance Awards Recipients!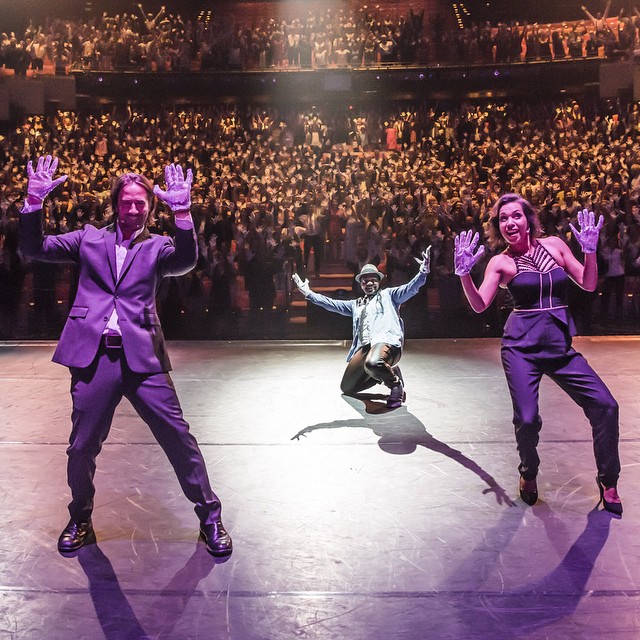 The 2014 Australian Dance Awards were held at the Sydney Opera House last Sunday, November 9, and it was certainly an evening to remember! The whole event was a fantastic celebration rejoicing in the dance community's busy year of stellar performances and unforgettable experiences. To find out who the winners were, see below.
One notable moment from the Awards was when the beloved Gailene Stock AM CBE, who sadly died earlier this year, was inducted into the Award's Hall of Fame. Garth Welch gave her a touching tribute, outlining her extraordinary achievements over a lifetime in dance. [See a special tribute to Stock by Dance Informa writer and her former student Rebecca Martin in this month's magazine edition here.]
Choreographer Leigh Warren, former director of Australian Dance Theatre and Leigh Warren Dance, was also presented the Lifetime Achievement Award for his significant service to the industry. As a dancer, Warren was once renowned for his impeccable technique and mesmeric performances with The Australian Ballet, Ballet Rambert, Nederlands Dans Theater, Nureyev and Friends and other international companies. It was an honour to see his long and substantial career recognised.
Also, dancemaker Gabrielle Nankivell was named the inaugural recipient of the new Keith Bain Choreographic Travel Fellowship. She is currently developing two works, Split Second Heroes and Runaway according to her choreographic website.
A few nominees that won twice this year included The Australian Ballet's Cinderella and Chunky Move's Aorta, which both received awards in two categories. The Australian Ballet won Best Performance by a Company for Cinderella and Principal Leanne Stojmenov won Outstanding Achievement by a Female Dancer for dancing the production's lead role. On the other hand, Stephanie Lake won the Outstanding Achievement in Choreography Award for Chunky Move's Aorta and James Vu Anh Pham won Outstanding Achievement by a Male Dancer for dancing in it.
In addition to the exciting presentation of the awards, live performances were scattered throughout the event with more than 90 dancers performing.
Overall, congratulations to the award winners and the performers, and thanks to hosts Kip Gamblin and Frances Rings for taking us through the many scheduled festivities and to Ausdance for organising a fabulous evening! Dance Informa was proud to be the media partner for the 2014 Australian Dance Awards and had fun hosting the official photo wall and conducting red carpet interviews.
AND THE WINNERS ARE….
HALL OF FAME
Gailene Stock AM CBE
LIFETIME ACHIEVEMENT AWARD
Leigh Warren
SERVICES TO DANCE
Annie Greig [Artistic Director, Tasdance]
SERVICES TO DANCE EDUCATION
Janet Karin OAM [Kinetic Educator, The Australian Ballet School; President, IADMS]
OUTSTANDING ACHIEVEMENT IN YOUTH OR COMMUNITY DANCE
Buzz Dance Theatre for Look the Other Way
OUTSTANDING ACHIEVEMENT IN CHOREOGRAPHY
Stephanie Lake for Aorta [Chunky Move]
OUTSTANDING PERFORMANCE BY A COMPANY
The Australian Ballet for Cinderella
OUTSTANDING ACHIEVEMENT IN INDEPENDENT DANCE
Dalisa Pigram for Gudirr Gudirr
OUTSTANDING PERFORMANCE BY A FEMALE DANCER
Leanne Stojmenov for Cinderella [The Australian Ballet]
OUTSTANDING PERFORMANCE BY A MALE DANCER
James Vu Anh Pham for Aorta [Chunky Move]
OUTSTANDING ACHIEVEMENT IN COMMERCIAL DANCE OR MUSICAL THEATRE
Red Hot Rhythm for Rhythm Junkies
OUTSTANDING ACHIEVEMENT IN DANCE ON FILM/NEW MEDIA
Sue Healey for On View
ALSO, take note: According to Ausdance, the 2015 Australian Dance Awards will be held in Adelaide! Since the inaugural presentation of the Awards in Sydney in 1997, they have been held in various venues across the country, from Melbourne to Brisbane to Perth to Canberra. Be on the lookout for more information and a call for nominations!
Photo: Performer Ghenoa Gela, center, rocking the house at the 2014 Australian Dance Awards. Photo courtesy of Ausdance.