Yellow Wheel Winter School 2013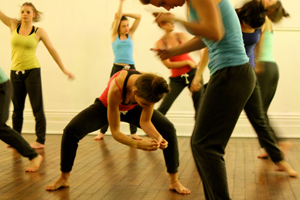 Yellow Wheel, Victoria's premiere youth dance company, will offer Melbourne's only contemporary dance winter school this July.
The Yellow Wheel 2013 Winter School is a five-day intensive in contemporary dance technique and creative process with Yellow Wheel's Artistic Director Adam Wheeler and three guest teachers, Lina Limosani, Thomas Greenfield and Becky Hilton (accompanied by dancers from the Mexican dance company La lagrima.)
Each day will begin with a warm-up and contemporary dance technique class taught by Wheeler followed by an entire day with some of Melbourne's most established contemporary dance artists and teachers.
The Winter School will run July 8th to 12th from 10 a.m. to 6 p.m. daily. Dancers ages 14 and over are invited to participate. Classes will be held at the Collingwood Masonic Centre, located at 141 Gipps Street in Abbotsford. The total cost for the five-day intensive is $250, which includes all training, a certificate and snacks.
To register for the Winter School, simply fill out the form at www.yellowwheel.com.au and then make the payment. For more information about the Winter School, email Josh at josh@yellowwheel.com.au or phone 0408 660 748.
Yellow Wheel is also offering five full scholarship places for this year's Winter School. The recipients will be able to attend the Winter School completely free of charge (but will have to cover their own transport and accommodation). All dancers need to do to be considered is answer the following: "What are your dreams as a dancer and how would this Winter School help you realise those dreams?" Email answers to josh@yellowwheel.com.au by June 30. Decisions will be made by July 1.
Photo courtesy of Yellow Wheel.