Yellow Wheel hosts Summer School 2015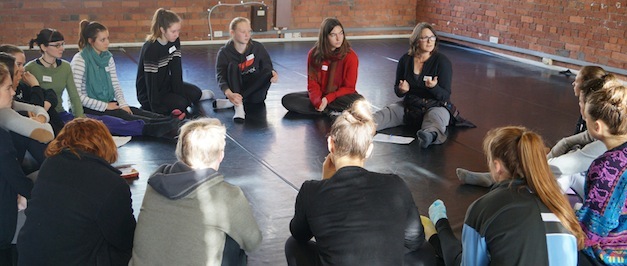 Yellow Wheel, Victoria's premier youth dance company, will offer young Melbourne dancers its Summer School 2015 on Monday, January 19 to Friday, January 23 from 11 a.m. to 6 p.m. daily.
The school will feature instructors like Prue Lang (previous dancer with Meryl Tankard's Australian Dance Theatre, former leading soloist with William Forsythe's Frankfurt Ballett and current independent choreographer), Amber Haines (former ADT dancer and current independent dancer, choreographer and director), Natalie Abbott (choreographer of works presented at Dance Massive and Next Wave Festival), plus Yellow Wheel's Artistic Director Adam Wheeler and Producer/Facilitator Joshua Lowe.
The program will concentrate on the development of young people in contemporary dance, with participants absorbing technique and receiving advice from some of Australia's finest contemporary teachers. Throughout the week, dancers will also investigate concepts of improvisation, choreographic process, partnering and contemporary dance history.
"This is your opportunity to meet like-minded people and develop your understanding of our fantastic genre," described Yellow Wheel.
Young, pre-professional dancers can save and book for the whole week, or can choose a more flexible option that allows them to just book for specific days. The school will be held at Lucy Guerin Inc., Yellow Wheel's home and "big sister company," located at 28 Batman Street in West Melbourne.
The school costs $250 for the entire week or $60 per day. For more information, visit www.yellowwheel.com.au or contact Joshua Lowe at josh@yellowwheel.com.au.
Also, something else to keep in mind is Yellow Wheel's 2015 Company Auditions, planned for Tuesday, January 27 from 6:30 to 9:30 p.m. and Sunday, February 1 from 10 a.m. to 1 p.m. Dancers must be 14 years old or older to audition. Those who are chosen will be part of an ensemble for the whole year, rehearsing on Tuesday nights and most Sundays and working on a number of key projects, including: the White Night Festival, It's A Dance Project and the major season. The audition will include contemporary technique class, followed by some improvisational and choreographic tasks.
Photo courtesy of Yellow Wheel.