World premiere season of 'AORTA'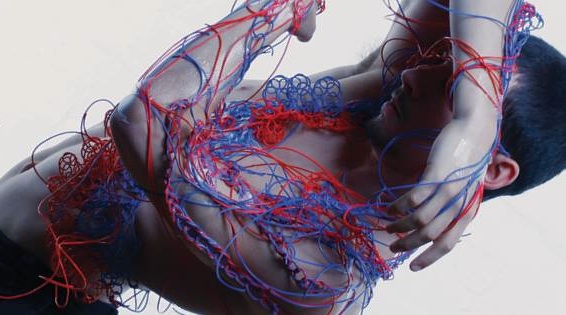 Melbourne-based contemporary dance company Chunky Move will present the world premiere of AORTA, a new work by award-winning choreographer and dancer Stephanie Lake. Commissioned by Chunky Move as part of Next Move, a program committed to nurturing the next generation of Australia's leading dance makers, AORTA will be presented Friday 22 – Saturday 30 November.
Integrating Stephanie Lake's physically complex and visceral movement style, three male dancers and an original composition by Robin Fox, AORTA is a work that brings the interior workings of the body – the surge of blood, our biomechanical impulses – to the surface. Exploring growth and decay, electricity and magnetism, AORTA dissects the notion that at any given moment we are both alive and dying.
The aorta is the elastic artery that lies at the centre of our physical system. Consisting of smooth muscle, nerves and cells, it is the central corridor that branches from the heart: essentially, our ticking clock. Inspired by the metronomic nature of the heart as it charts the unwinding of time, AORTA is a work that turns the body inside out.
"For someone who's worked as a dancer for most of my life the subject matter explored in AORTA – the complex, chaotic, interconnected and mysterious nature of our physical body – is close to my heart," Lake said. "And working with these incredibly talented male dancers and artistic collaborators has been a dream."
Stephanie Lake is an award-winning choreographer and dancer based in Melbourne. She was the inaugural winner of the Dame Peggy Van Praagh Choreographic Fellowship in 2012 and she is the second choreographer to be commissioned twice through Chunky Move's Next Move initiative.
On the decision for the company to commission Lake for the second time, Chunky Move Artistic Director Anouk van Dijk said, "Lake has made significant leaps in her choreographic development since creating her first work, MIX TAPE, for the Next Move program four years ago. Steph's unique physical language and love of movement and musicality have really come to the fore in AORTA; and her continued artistic partnership with composer Robin Fox is adding a whole new dimension to the work. I wanted to offer our audience the opportunity to follow Steph's development firsthand."
Lake's acclaimed full-length work MIX TAPE, which was commissioned by Chunky Move, won two Green Room Awards, including Best Choreography in 2011. In 2012, she was commissioned by Sydney Dance Company to create Dream Lucid for Contemporary Women, a Spring Dance Festival. She has had choreographic commissions for more than 20 projects and has worked in collaboration with artists including Robin Fox, David Rosetzky and Missy Higgins.
For more information on the premiere performances of Lake's AORTA, visit www.chunkymove.com. The work features the three male dancers James Batchelor, Josh Mu and James Pham, with production design by Rhian Hinkley and costume design by Shio Otani. AORTA will be presented at the Chunky Move Studios in Melbourne.
Photo courtesy of Chunky Move.