World premiere of Ratmansky's 'Cinderella'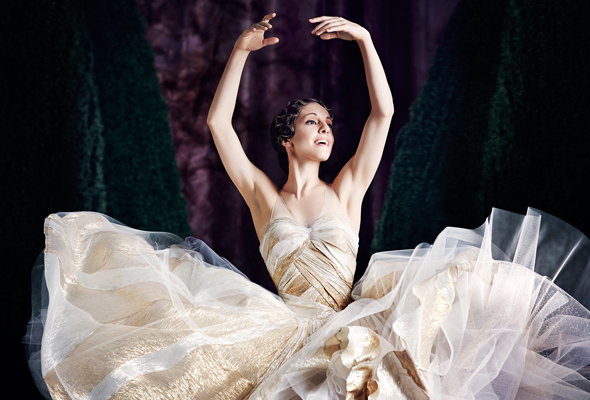 The Russian-born, New York-based choreographic heavyweight Alexei Ratmansky has been in the Melbourne studios of The Australian Ballet since July creating his first full-length work for the company, Cinderella. This stunning production will have its world premiere at Arts Centre Melbourne from 17 September for 14 performances, before travelling to the Sydney Opera House on 29 November.
This is the second time Ratmansky has worked with The Australian Ballet. In 2009, he created Scuola di ballo as part of the Concord triple bill.
But this time around he'll be unleashing his considerable narrative talents on a sublime story ballet, taking audiences on a journey to 20th-century Russia and into an abandoned theatre where this unconventional fairy-tale is set.
The Artistic Director of The Australian Ballet, David McAllister, said to expect the unexpected. "Alexei has wonderfully reimagined iconic works such as The Nutcracker, Don Quixote and The Firebird, and I have no doubt that this production will be equally spectacular," said McAllister.
"His abilities span all genres of classical ballet and I know he'll put his unique stamp on this much loved fairy-tale. He's a master of characterisation and our dancers are excited to be working with him again on bringing these roles to life."
A former dancer himself, Ratmansky famously took the reins of the famed Bolshoi Ballet at just 36 years of age. He was the Bolshoi's Artistic Director for five years, before heading across the Atlantic to join American Ballet Theatre in 2009 as Artist-in-Residence.
Since then, he has won numerous accolades for his choreography, including a UK Critics Circle National Dance Award for The Bright Stream; the Benois de la Danse prize for his choreography of Anna Karenina for the Royal Danish Ballet; and a Golden Mask Award for Best Choreographer for his production of Jeu de Cartes for the Bolshoi Ballet.
Perhaps respected dance critic Deborah Jones summed it up best when describing choreographer Alexei Ratmansky in The Australian: "There is no more interesting, influential or thoughtful choreographer working in classical ballet."
Ratmansky's Cinderella, which will be brilliantly outfitted by award-winning costume designer Jérôme Kaplan, will be premiered 17 September at Arts Centre Melbourne's State Theatre. Accompanied by Orchestra Victoria, The Australian Ballet will perform Cinderella in Melbourne through 28 September before heading to Sydney.
In Sydney, Cinderella will be performed 29 November through 18 December at the Sydney Opera House's Joan Sutherland Theatre. The ballet will be accompanied by the musical performances of the Australian Opera and Ballet Orchestra.
In addition, The Australian Ballet will be holding a special preview of Cinderella on Monday 16 September, and donating $50,000 from ticket sales to support the Murdoch Children's Research Institute.
For more information or to book tickets, visit australianballet.com.au or call 1300 369 741.
Photo: Leanne Stojmenov of The Australian Ballet. Make-up by Napoleon Perdis. Photography by Justin Ridler.