Weave concludes inclusive intensive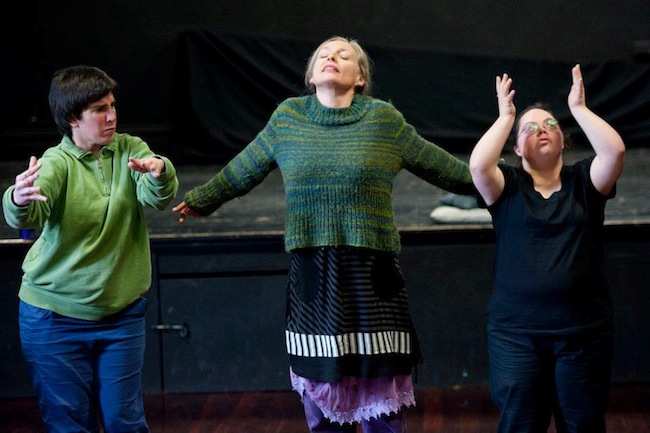 Over the last month, 25 professional artists with disability have been training with four Australian superstars of performance in a national first to address the critical need for artistic training for artists with disability. For some of the facilitators, it was the first time they have worked with a dance company for people who have a disability.
In partnership with Arts Access Australia, Dancehouse and the Australia Council, Melbourne-based dance company Weave Movement Theatre has host this professional dance development training, which will culminate this weekend (September 19–21) in a three-day workshop with Caroline Bowditch.
The national dance intensive started with instruction from Yumi Umimare, Australia's brilliant Japanese Butoh artist. She brought a terrific perspective to the company in her Butoh practice, creating beautiful and authentic moving landscapes. She challenged the group with images ranging from the hilarious to the grotesque, pushing participants' bodies and imaginations to new places.
Michelle Heaven also taught at the intensive, blending her own improvisational practice with the experience of the Weave ensemble as seasoned improvisers. In addition to her independent work, Heaven's performance credits include dancer roles with Phillip Adams' BalletLab, Chunky Move and KAGE, among many others.
Thus far in September, Weave has welcomed Olivia Millard to teach and this weekend will see Caroline Bowditch. Bowditch is a dancer and choreographer with a significant disability who has forged an incredible career overseas as a professional, full time artist. Originally from Melbourne and a founding member of Weave, she returns to the area now after having performed with the Scottish Dance Theatre, Skanes Dansteatre (Sweden) and Dance4 (U.K.)
For more information on this groundbreaking intensive, visit www.weavemovementtheatre.com.au. Training continues through Sunday at Dancehouse, Carlton.
Photo courtesy of Weave Movement Theatre.