WAAPA's Music Theatre Audition Masterclass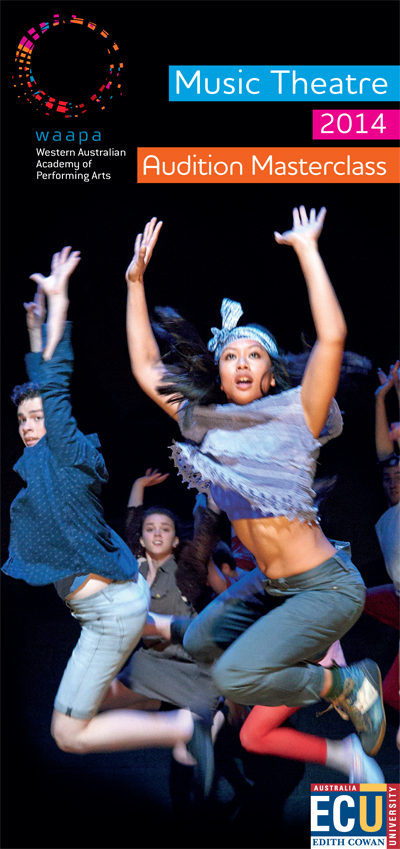 The Western Australian Academy of Performing Arts (WAAPA) will present a Music Theatre Audition Masterclass in Melbourne, Sydney and Brisbane in July and Perth in September.
This masterclass will help demystify what can be a daunting process – the musical audition. Run by WAAPA's Coordinator of Music Theatre David King and Resident Director Crispin Taylor, this masterclass will give dancers techniques to deal with the most challenging musical audition.
The three-hour session includes mock auditions for singing, acting and dance, and prepares auditionees for all challenges from cattle calls to callbacks. It is suitable for professional and amateur performers, teachers and prospective WAAPA students.
The masterclass includes discussions on
 choice of material, appropriate preparation, personal presentation, professional audition procedures, audition etiquette, dealing with nerves, accompanist briefing, taking direction and how to manage effective communication. Participants will be able to ask instructors questions at some point during the session. Participants must be at least 15 years old.
The masterclass will be offered in Melbourne on Thursday, July 3, in Sydney on Friday, July 4, 
in Brisbane on Sunday, July 6, and in
 Perth on Saturday, September 13. Each session will cost $175 and start at 10 a.m. and go to 1 p.m.
To enroll, visit waapa.ecu.edu.au to download the application form and to arrange payment. All courses are subject to minimum enrolment numbers. Check the WAAPA website for full details and to apply.
For further information, contact the 
Explore Short Course Coordinator
 at WAAPA, located at
 2 Bradford Street, Mount Lawley, Western Australia. Email explore.waapa@ecu.edu.au for more information.