WAAPA presents titillating Opera Double Bill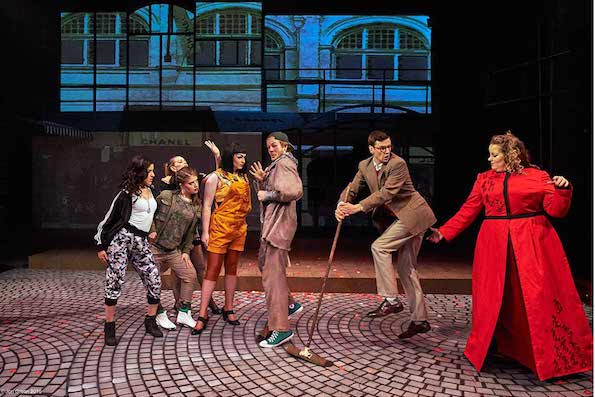 From Monday—Saturday, October 16—21 in the Geoff Gibbs Theatre at Edith Cowan University, Mount Lawley, the talented students of the Western Australian Academy of Performing Arts' Classical Vocal program will perform two boisterous operettas for your enjoyment, under the direction of acclaimed Opera Director Thomas de Mallet Burgess.
The Impresario (Der Schauspieldirektor) is a comic singspiel by Wolfgang Amadeus Mozart. Two warring sopranos try to out-sing each other with ever-higher notes; the Impresario hires them both but each wants to be the Prima Donna and receive the highest fee. Who will win?
WAAPA follows this with Francis Poulenc's one-act opera-bouffe Les Mamelles de Tirésias (The Breasts of Therese). Therese tires of her submissive, dull life – and what follows is just as absurd, hilarious and shocking as it was at the premiere in 1947! With music in the style of Offenbach, Chabrier and Ravel, Poulenc's brilliant comic opera impresses the listener with its stream of melody, dances and pastiches from other popular music of the time. Based on a farce by Guillaume Apollinaire, Les Mamelles is sure to entertain.
Thomas de Mallet Burgess explained why these two operas work so well together as a double bill despite being separated as they are by a history that includes the French Revolution and two World Wars.
He said, "Mozart's comic Singspiel premiered in 1786 as part of a musical competition and was presented on one side of the room against Salieri's Italian opera 'Prima la musica e poi le parole' which was then given at the other end of the room. Poulenc's opéra bouffe premiered in 1947 but, through its libretto, dates back to the creative anarchy that was Dadaism and its poster child surrealism in the interwar years. However, in this production Mozart's comic critique of the often farcical business that is opera provides a suitable set-up for Poulenc's Les Mamelles de Tirésias."
In fact, the storyline of Mozart's The Impresario couldn't be more fitting for it's young cast.
"The Impresario (sung in German with dialogue in English) explores the plight of one man running a small opera company with high ideals against the forces of compromise. We assume that the net result nevertheless is a staging of Poulenc's highly unconventional opera in which the senseless is calculated to make sense. As Mozart's opera gently rails against the business of opera so Poulenc's work based on a play of the same title by Guillaume Apollinaire rails against a society that makes babies only for them to be destroyed in conflict by encouraging the audience to make more babies. Both operas subvert theatrical conventions to achieve their ends, which make them fun," Burgess commented.
Opera Double Bill: Der Schauspieldirektor & Les Mamelles de Tirésias opens at the Geoff Gibbs Theatre at ECU on Monday. To book tickets, call (08) 9370 6895 or visit waapa.ecu.edu.au.
Photo: Classical Voice Production in Opera! The Opera in 2016. Photo by Jon Green.
---