Victoria Salsa State Titles Set for August 26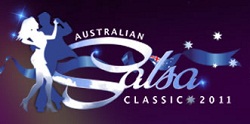 Natalie Montano (Synergy Salsa & Melbourne Latin Festival) and Sharon Pakir (Spin City Dance) are once again hosting the annual Victoria Salsa State Titles this August 26 at Colonial Hotel (Blights Bar).
Who will represent Australia in the 2011 World Salsa Championships? It all starts at the Victoria Salsa State Titles, the pre-qualifer for the Australian's Salsa Classics and then onto the World Salsa Championship. If you are a competitor or just enjoy the spectacle, colour and music of Salsa, then the Victorian and Australian Salsa Classic are the place to be. Now in it's 4th year, you will be thrilled with sensational competitor performances from some of the best dancers Victoria has to offer!
To get your tickets visit http://www.trybooking.com/Booking/BookingEventSummary.aspx?eid=12459&bof=1