Universal Studios Japan Auditions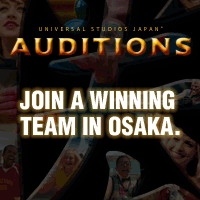 The Universal Studios Japan 2011 Audition Tour has begun! Auditions are being held in Melbourne Thursday and Friday, and will take place in Sydney on Sunday and Monday. The audition tour will then move to the Gold Coast for Thursday and Friday.
They are looking for face characters/actors, singers, dancers, stunt performers and even jet and water skiers! For more details visit our Auditions section.
Good luck performers!