Two courses offered at Left Leg Studios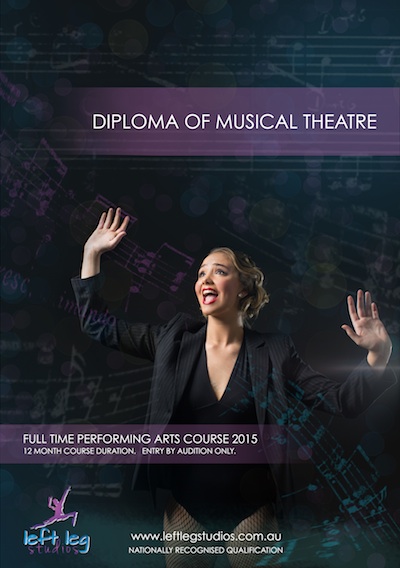 Left Leg Studios in Melbourne seeks to give those interested in the performing arts industry a program that's sole focus is to prepare them for the professional market. As a boutique studio, Left Leg offers two streams of study, a Pre-Professional Program and a Diploma of Musical Theatre. Acceptance into both programs is by audition only.
The Pre-Professional Program is a part time course, suited to students aged 14 to 25 years looking for a comprehensive, intensive program outside of school or work duties. Left Leg Studios will run the course on Monday and Thursday evenings from 6 to 9 p.m. and Saturdays from 10 a.m. to 5 p.m.
The new Diploma of Musical Theatre is a one-year, full time, nationally accredited course, studying all facets of voice, dance, acting and stagecraft with a proficient and dedicated faculty. Students will gain performance and choreographic experience, event management and direction opportunities, as well as learn the business aspects of the industry, preparing a portfolio for auditions and gaining audition expertise.
Auditions for full time and part time studies will be held Saturday, September 20. To apply, dancers should email info@leftlegstudios.com.au for details and a course outline. Another audition will be held Saturday, October 11 at 10 a.m. Both will be hosted at Left Leg Studios, located at The Powerhouse, Lakeside Drive, Albert Park, VIC.
For more information, visit www.leftlegstudios.com.au.
See Dance Informa's 2015 Full Time Dance & Auditions Guide to learn more about the best full time courses in Australia, New Zealand and New York.