Try these awesome online classes and events this week!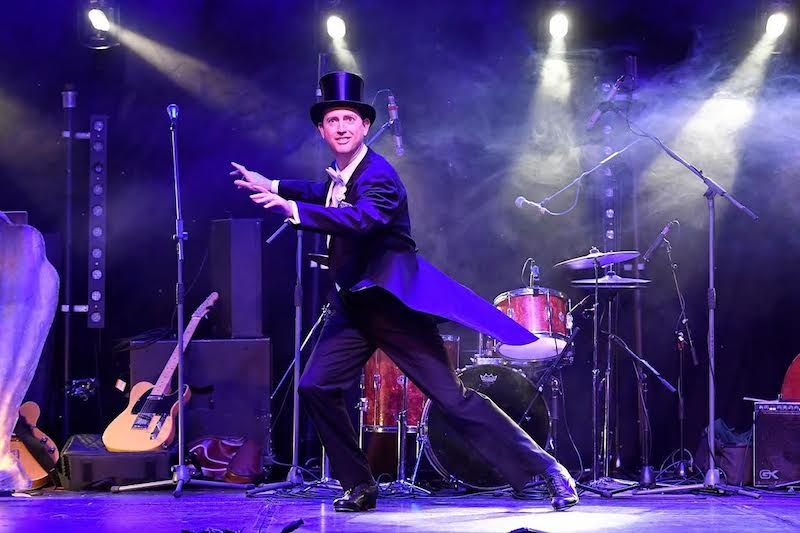 ONLINE DANCE CLASSES AND EVENTS
Life still looks pretty different, with studios and theatres closed, but there's still so much magic happening in the dance space! Here's a list of great online classes and performances you can engage with online this week.
Tap at home with Eden Read
Eden Read is a tap dancer and educator based in Melbourne. He's also a faculty member for the Australian Tap Dance Festival! He teaches popular open classes to all levels at The Space Dance & Arts Centre and Elevator Studios, and is a lecturer in tap for the musical theatre departments at VCA and Federation University. His online offerings are based on essential drills, skills, and repertoire, and have been collated as video tutorials framed around tapping at home with limited resources and space to work with. Access is via video links (stream or download), where a donation per series will unlock all videos in that group. Each series has tutorials catering to beginner, intermediate, and advanced tappers. Donations of $5 – $20 per series are appreciated. Tutorial links and payment details are available through his facebook page Eden Read – Tap Classes; https://m.facebook.com/edenreadtap or you can find him on instagram; @edenread81
Series released to date (more coming soon!)
1. Drills
2. Timesteps
3. Pickup Change & Elevated Steps
4. Stamp-Stamp-Pickup-Step
5. Running Shuffles & Trebles
6. Paddle & Roll
Floor Barre with UK based Ballet Dancer Kim Amundsen
Kim Amundsen PDTD, is a lecturer of dance Trinity Laban Conservetoire of Music and Dance. Kim is a Boris kniaseff Floor Barre Coach who teaches Boris Kniaseff (BK) based Floor Barre technique with the influence of ballet moves. The class is taught online every Wednesday and Saturday 12:00-13:00 BST. You can find the class on Facebook live: https://www.facebook.com/BarreATerre/ and Instagram live: insragram.com/kimbo74 and it's a £15 donation by visiting Paypal.me/kimamundsen
Dancing on my own with Kyle from Dance Dynamics
Join Kyle with his launch of 'Dancing on my own' which is a fun upbeat commercial jazz number to the song by Robyn. All about exuding confidence and having fun. Expect sweet, sassy, and sexy mixed with the underlying emotion of the song. The cost $36 and dates are May 1-5th with recordings available for 7 days afterwards. Visit https://app.namastream.com/#/dance-dynamics-virtual-studio/buy/product/9673
Ballet with UK Dance Company E33
E33 Dance Company offer company class every Friday morning 10.30am-12 (UK time.) This class is ideally for intermediate dancers and above with some previous ballet experience. Director Rachel Riveros gives clear explanations ensuring your core, inner thighs, legs and feet are worked to the max! They are a body, mind and soul company focusing on the holistic wellbeing of the individual. To find out more visit: https://www.facebook.com/E33-Dance-Company-255060991297502/
Rockettes give free classes
The Rockettes have started offering free, live weekly fitness and dance classes on the official Instagram (@therockettes). All of the classes they've posted to date (and some fun mashups of fan videos!) are at the below link: https://www.dropbox.com/sh/t1o20egnftsjkng/AABGhP7iyLBn1nlw2gCnZ5Toa?dl=0
Jason Coleman and staff at the Ministry of Dance create an informative dancing and singing lesson
Jason Coleman and the incredible full time staff at the Ministry of Dance have made this fun and informative dancing and singing lesson. It's made for the little ones who are stuck at home. It's also for their Mum's and Dad's who are all doing such an amazing job of home schooling. Watch here: https://youtu.be/Fow8dCYBc_A
ADT create ADAPT
This is Australian Dance Theatre's special online-only season for 2020. Every fortnight beginning Friday 1 May, at 12 pm ACST (UTC +9:3O) they will be streaming one of Garry Stewarts most well-known works for a 48 hour period. Use the navigation here to find out about the shows in their season. How to watch and View the program
Countertechnique online classes
Countertechnique online classes are a great way to stay connected to your local community, whilst also allowing you to take class with dancers and Countertechnique teachers from around the world. All classes can be attended for free, but please consider supporting our teacher community with a donation in USD, EUR or AUD. The full schedule and registration links will continue to be posted on this page: https://www.countertechnique.com/online/
IDT Online workshop class
Lucy Ellis & Kylie Norris (the creators of IDT syllabus work), will be taking an exciting, once-off online IDT workshop class. During this class they will be working on selected exercises from the syllabus, as well as some new 'at home' extension exercises which will help develop technique skills for the syllabus work. Dancers and teachers are invited to this workshop. Teachers are welcome to just view class and take videos & notes. It's on 10th of May 4:30pm-5:45pm EST Australia or (7:30am in the morning UK TIME) on zoom and for anyone with a IDT membership. Class links and information will be emailed out to those who have purchased a tickets 2 days prior to the workshop. Workshop will fill, so book ASAP to avoid missing out! Visit: https://internationaldancetechnique.com/ to find out more.
Miss wearing high heels?
Try a Heels class with Dance Central and work on your sass, fierceness while focusing on technique and lines. This class is suitable for all levels and heels aren't compulsory. Class will cover basic jazz technique, expression and how to build your confidence in heels. To enjoy this class visit: https://dancecentralsydney.weteachme.com/classes/1035698-online-heels
Image courtesy of Eden Read Tap dance teacher and artist