'Trolleys' at 2013 AWESOME Festival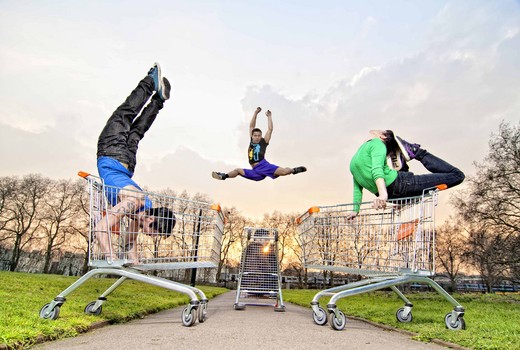 Choreographer Shaun Parker's Trolleys will be presented at the 2013 AWESOME Festival on 12 – 14 October at Perth Cultural Centre Amphitheatre. Performed by Buzz Dance Theatre, the new outdoor work is part dance, part ballet and part outdoor spectacle.
With music composed by Nick Wales and movement orchestrated by award-winning choreographer Shaun Parker, Trolleys is a new ballet about five supermarket trolleys. Throughout the work the shopping carts meet, mingle, socialize and clash.
The carts randomly appear in a public space. Two meet and fall in love, one lone cart grapples to find a friend, and three others revolt and ignite a dance of anarchy. The trolleys spin, glide and slide in this highly-physical outdoor performance work where high-octane contemporary dance, acrobatics and street dance merge with the extraordinary world of the trolleys.
Driven by Wales' pounding electro-acoustic score, Trolleys will pull at viewers' heartstrings and tease their minds. It was originally commissioned by the Without Walls Consortium and performed and produced by C-12 Dance Theatre and Shaun Parker & Company.
Trolleys will be presented Saturday 12 October, Sunday 13 October and 
Monday 14 October. Two performances will be presented each day at 10:30 a.m. and 1 p.m. The work is 20 minutes long and is free to watch. For more information, visit www.awesomearts.com.
Photo: Shaun Parker's Trolleys in performance. Photo by Irven Lewis.