Toumani and Sidiki Diabate in special concert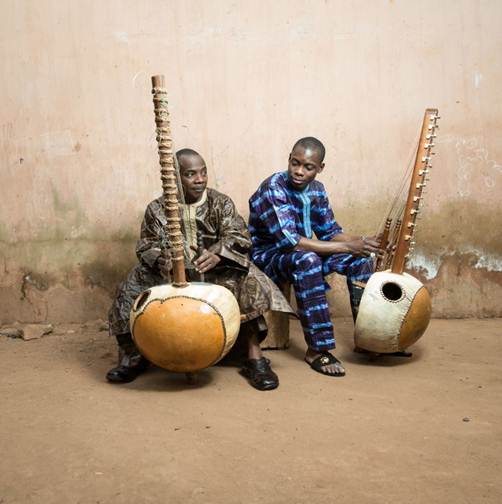 Grammy Award-winning kora virtuoso Toumani Diabate and his eldest son Sidiki, a hip-hop star and master kora player, are preparing to give a rare one-night-only performance at Arts Centre Melbourne's Hamer Hall on March 5. Born into an exceptional musical family – 71 continuous generations of kora players – Toumani was a self-taught child prodigy who has been described by The Observer as "one of the world's most pre-eminent musicians in any genre."
Toumani has brought the unique 21-string West African harp to global attention. He was born in Bamako, the capital of Mali, in 1965 into a family of griots (a West African musical hereditary caste) whose lineage stretches hundreds of years, father to son. His father was a kora player of legendary fame in West Africa — dubbed "King of the Kora"— who became famous for his idiosyncratic style of playing, echoes of which can be heard in Toumani's style. His first wife and Toumani's mother was the singer Nene Koita. The kora is the quietest of instruments but is played with verve and attack, exquisite intimacy and always with a flowing pulse and groove.
Diabate wowed WOMADelaide audiences in 2008, performing with his Symmetric Orchestra, but this year he will be joined by his eldest son Sidiki.
Toumani Diabate's influences are sourced from many cultures – Indian classical music, Spanish flamenco and radical free jazz. His collaborations are just as unique – he has played with Bjork, Gorillaz/Blur frontman Damon Albarn, bluesman Taj Mahal and guitar wizard Ali Farka Touré. Diabate received a Grammy for Best Traditional World Music Album in 2011 for his joint album with Ali Farka Toures. The duo's first album together also won a Grammy following its 2005 release. In 2008, Toumani was appointed UNAIDS Goodwill Ambassador for using his music to spread awareness on HIV and AIDS.
The Hamer Hall concert will be a series of virtuosic duets in support of the father and son's album Toumani and Sidiki Diabate. Mali's recent tragedy was one of the main impulses behind Toumani's decision to record an album of duets with his son, Sidiki. He wanted to present the 72nd generation of Diabate griots to the world, but also reaffirm his belief that Mali's most precious assets are its music and culture, its traditional faith and the bonds that bind its many different peoples.
Twenty-three-year-old Sidiki is considered to be a musical genius, with formidable technique and a distinctive style. He personifies the kora's entry into the digital age; when he was a teenager he enrolled in the National Institute for the Arts in Bamako, taking up drums and learning digital recording techniques and in 2013 he was voted Mali's best beat-maker. As well as remaining true to the classical traditions of the kora, Sidiki sites contemporary western stars such as Kendrick Lamar and Kanye West as influences.
"For me to play with my dad is like a dream. Yes, I'm a hip-hop artist, but I love and respect my roots as a kora player. I want to know more. It's my chance to learn directly from my father. It's extra special because he is my idol,'' Sidiki said.
For more information or to book tickets to their one-night-only show, visit www.artscentremelbourne.com.au.
Photo courtesy of Arts Centre Melbourne.