Three Aussies awarded big ballet scholarship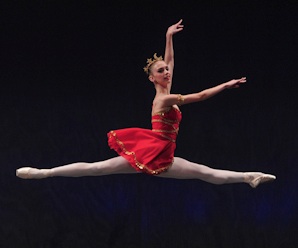 The three winners of the 2014 Lady Mollie Isabelle Askin Ballet Scholarship have been announced by The Trust Company, as part of Perpetual. The scholarship, which is awarded every two years to three applicants who show outstanding ability and promise in the art of ballet, went to one male and two females this time around.
Winners Isobelle Dashwood, Josephine Frick and Cameron McCormack will each be awarded $20,000 as part of the scholarship. These funds will go toward costs related to study, maintenance and travel within Australia or abroad to further their ballet careers.
Caitriona Fay, Perpetual's national manager of philanthropy, congratulated each of the winners.
"The recipients of the Lady Mollie Isabelle Askin Ballet Scholarship are three extraordinarily talented young dancers and there is no doubt this funding will help each of them further their careers," Fay said. "As trustee, we are proud to be keeping the legacy of Lady Mollie Isabelle Askin alive and demonstrating the impact that philanthropy can have."
Originally from Melbourne, 18-year-old winner Josephine Frick will use the scholarship funding to continue her studies at The Royal Ballet School in London and to participate in ballet workshops and summer schools in Europe during 2015.
Fellow Victorian Cameron McCormack, 20 years of age, will put the scholarship towards an international audition tour, which will both enhance his artistry and provide greater opportunities for work. McCormack has previously danced for The Australian Ballet and Queensland Ballet and is looking forward to broadening his perspective on the industry through international travel.
Also based in Melbourne, 17-year-old Isobelle Dashwood intends to fund her graduate year at The Australian Ballet School through the scholarship, consolidating her performance skills and confidence in order to contribute to the wider Australian ballet community.
Commenting on the three winners, the judges of the scholarship said, "It was such a privilege to award the Lady Mollie Isabelle Askin Ballet Scholarship this year to three talented and promising young Australian ballet dancers. This scholarship is an acknowledgement of their dedication and hard work over many years and will provide much needed financial assistance so they can continue to pursue their artistic aspirations."
The judging panel for the 2014 Lady Mollie Isabelle Askin Ballet Scholarships included Adrian Burnett, the program manager of Arts Organisations at Australia Council for the Arts, and Director/Choreographer Stephen Colyer.
The Lady Mollie Isabelle Askin Ballet Scholarship is open to males and females aged 17 to 30 years old and was created to support the "furtherance of culture and the advancement of education in Australia and elsewhere." Lady Mollie recognised the great financial need of young ballet artists. So she established the scholarship to benefit individuals who may not be able to continue their studies due to financial reasons.
For more information, visit thetrustcompany.com.au/philanthropy.
Photo: Isobelle Dashwood competing at the Youth America Grand Prix 2012 New York City Finals. Photo courtesy of VAM Productions.