Thomas Lacey to lead in 'Strictly Ballroom'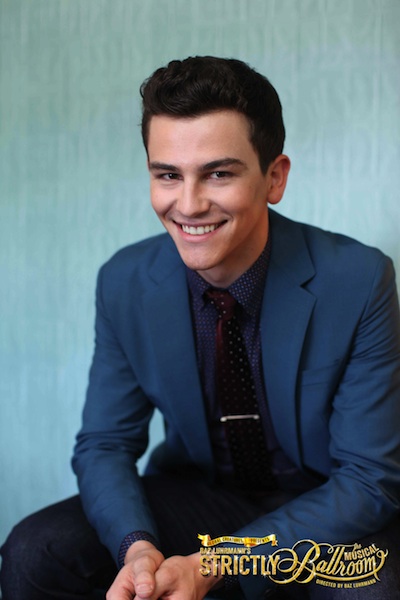 After months of auditions, Director Baz Luhrmann has announced that the exhaustive search for the ideal 'triple threat' to play the pivotal lead role of Scott Hastings in Strictly Ballroom the Musical is over. The "role of a lifetime" has been given to 20-year-old Thomas Lacey, best known as Ben Tickle in the ABC TV hit dance show Dance Academy.
Baz Luhrmann said, "After an exhaustive search looking for a young Australian who could not only convey emotion through dance in the role of Scott Hastings, and act the role of Scott Hastings, but also sing the role of Scott Hastings, the team and I are thrilled to have cast Thomas Lacey. Thomas' trajectory is not dissimilar to that of Scott, and I can only imagine how difficult it has been for him, given that he has been cast for some time, to keep it a secret so well."
Thomas started dancing at the age of two at the May Downs School of Dance, where he still trains in ballet, jazz, tap, hip-hop, contemporary and acrobatics. He is a committed performer who started professional work at the age of 7 in the stage version of The Magic Faraway Tree. Other stage credits include Singing in the Rain, Oliver, The Wizard of Oz and productions of Music Man, Bye Bye Birdie and Oklahoma!
Strictly Ballroom the Musical is the inspiring story of a championship ballroom dancer who defies all the rules to follow his heart. This uplifting and courageous tale will tango, sashay and bogo pogo its way onto the Sydney Lyric stage from March 2014.
This brand new theatrical production will be brought to the stage by the original creative team behind the classic 1992 film, including director and co-writer Baz Luhrmann, set and costume designer Catherine Martin, choreographer John "Cha Cha" O'Connell and co- writer Craig Pearce. An announcement will be made soon about the remainder of the cast.
For more information on Strictly Ballroom the Musical, visit www.strictlyballroomthemusical.com.
Photo: Thomas Lacey will play the lead role of Scott Hastings in Strictly Ballroom the Musical. Photo by Baz Luhrmann, courtesy of Strictly Ballroom the Musical.