The Magic Sparkling Shoes have been found!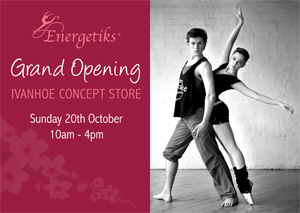 Energetiks' popular #isawtheshoes competition has come to an end as Blossom the Fairy found her magic sparkling pointe shoes. Blossom is so excited to have her shoes back. Guess where she found them?…At the new Energetiks concept store in Ivanhoe, Victoria. Energetiks will be opening their gorgeous new store on October 20 and Blossom will be there to meet all the customers and show off her stunning shoes.
The Energetiks Ivanhoe store is located at Shop 4-5, 63 Upper Heidelberg Road. The Grand Opening Event, with Blossom as special guest, will be held on October 20 from 10am to 4pm. Make sure to be there to join in the fun and to see Blossom and her shoes.
The winner of Blossom's magic shoes will be announced on Tuesday October 22nd.
For more information about Energetiks and to see their dancewear and dance shoe range, visit Energetiks.com.au.