The Australian Performing Arts Grammar School open mornings announced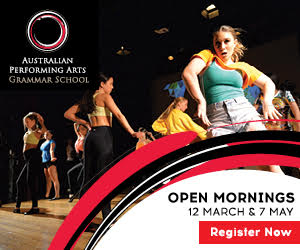 The Australian Performing Arts Grammar School (APGS) in Sydney NSW, is not like any other school you may have visited. APGS is a secondary school focussing on academic, creative and performing arts for Years 7 to 12 and they are hosting open mornings throughout the year.
The best way to understand how truly special the school is, is to see them in action. At their Open Mornings you can expect to meet their Head of School, academic staff and/or APGS students, view their facilities, see some of their students' creativity in action, and have all your questions answered.
An environment unlike any other, APGS is a vibrant and dynamic school dedicated to helping students develop holistically through the wonderful medium of performing arts education.
Bookings are essential and for further information visit: https://apgs.nsw.edu.au/index.php/enrolment/open-days