The Australian Ballet's Olivia Bell to retire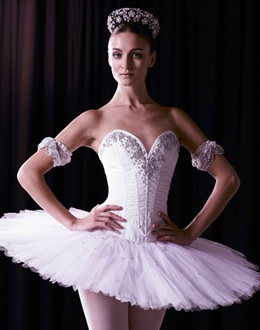 The Australian Ballet's Principal Artist Olivia Bell, one of the company's most popular and elegant ballerinas, recently announced that she will retire from the company in November.
After a brilliant career with The Australian Ballet spanning 18 years, Olivia will take her final curtsey at the end of the La Sylphide season at the Sydney Opera House on Monday 25 November at 7:30 p.m.
The Artistic Director of The Australian Ballet, David McAllister, said that Olivia will be remembered as a truly unique and dazzling artist.
"Since joining the company, Olivia has always been a dancer whose elegance and star quality has shone brightly, both on and off stage – a true ballerina," said McAllister.
"She has danced a huge range of repertoire from the great classics to works that have been created especially for her. We will miss her glamour and artistry but we celebrate her wonderful career as she leaves us at the height of her powers."
Born and raised in Newcastle, Olivia won a scholarship to The Paris Opera Ballet School at 15 years old before joining The Australian Ballet in 1995. Moving through the ranks of the company, Olivia danced numerous leading roles before being promoted to principal artist following the closing-night performance of The Nutcracker in 2007.
In 2009, Olivia welcomed her twin boys Gabriel and Raphael, returning to the stage the following year. After the birth of her daughter Anouska in 2011, Olivia took another break, returning in January this year to tackle a lead role in George Balanchine's The Four Temperaments as part of the triple bill Vanguard.
In announcing her decision to retire, Olivia said she was keeping her options open but wanted to spend more time with her young family.
"My career with The Australian Ballet has been a magical journey, highlighted by so many unforgettable performances and experiences that I will cherish forever," said Olivia.
"I will always be associated with The Australian Ballet and dance and I have a number of exciting goals that I'm working towards in the next phase of my career… so who knows, I may not be hanging up my pointe shoes straight away!"
To see nightly casting for La Sylphide, including Olivia's final performances, click here.
Photo: Olivia Bell in Grand pas Classique in 2008. Photo by Liz Ham.