The Australian Ballet's 'Don Quixote'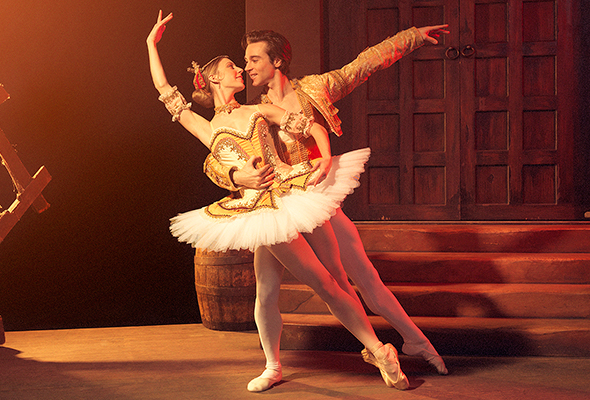 The Australian Ballet begins a year of masterpieces with a joyous, Spanish-flavoured ballet packed with tutus and lively dancing. Full of infectious charm and dynamic performances, Don Quixote is both a favourite of the dancers and perfect for families.
Don Quixote opens in Melbourne on 15 March at Arts Centre Melbourne, and then will travel to Sydney on 5 April. Joining The Australian Ballet for the Melbourne season of Don Quixote are two of the world's hottest names in ballet: Natalia Osipova and Ivan Vasiliev, from St Petersburg's Mikhailovsky Theatre.
Having gained an international following in a few short years, these Russian superstars are particularly acclaimed for their performances in Don Quixote. Osipova and Vasiliev will perform the lead roles of Kitri and Basilio for two special performances in Melbourne on 16 and 18 March.
The Artistic Director of The Australian Ballet, David McAllister, said this is an opportunity to see a pair of dancers at the top of their game, performing their signature work.
"I'm so excited that Natalia and Ivan will be joining us for our Melbourne season of Don Quixote and that their first time dancing live in Australia will be with us," McAllister said. "They are two of the most exciting dancers in the world and their Basilio and Kitri are the world's best. The fiery energy of Basilio and Kitri fills the stage with life and a series of show-stopping solos that will have the audience on the edge of their seats."
McAllister added: "What better way to start a year of masterpieces than with a crowd favourite. This is the perfect ballet for both life-long fans and first timers."
Returning to the stage in the title role of the Don for both Melbourne and Sydney seasons is Steven Heathcote, a veteran of The Australian Ballet and a firm audience favourite. During an illustrious stage career spanning 25 years, Heathcote performed the role of Basilio many times.
In the story
 of Don Quixote, feisty, flirty Kitri is on the run from an arranged marriage, accompanied by her handsome but penniless lover, the barber Basilio. They encounter the Don, who helps them in their escapades, set against the backdrop of sun-drenched rural Spain. Comic moments are off-set by some of ballet's most spectacular variations, including the thrilling boy-versus-girl coda of the third act grand pas de deux, where Kitri whips off the famous 32 fouettes and still looks like a dream.
The bravura dancing and toe-tapping score are matched by exquisite costumes and richly coloured set pieces that transport audiences to provincial Spain.
Rudolf Nureyev, who choreographed this version after Marius Petipa's original, first danced with The Australian Ballet in 1964, which began his long and rich association with Australia. He returned six years later, armed with a revival of Don Quixote that he had originally created for the Vienna State Opera. The production opened in Adelaide in March 1970, and has since been performed by the company 374 times. Twenty years after Nureyev's death in 1993, his Don Quixote has maintained an unwavering popularity with Australian audiences.
With its heady mix of Spanish dash and comedy, Don Quixote is the perfect feel-good ballet to kick off the year, according to Australian Ballet officials.
For more information on Melbourne and Sydney performances, or to book tickets, visit australianballet.com.au or call 1300 369 741.
Photo: Lana Jones and Daniel Gaudiello in Don Quixote. Photo by Georges Antoni, courtesy of The Australian Ballet. Make up by Napoleon Perdis.