SYTYCD – Live Performance (Top 16)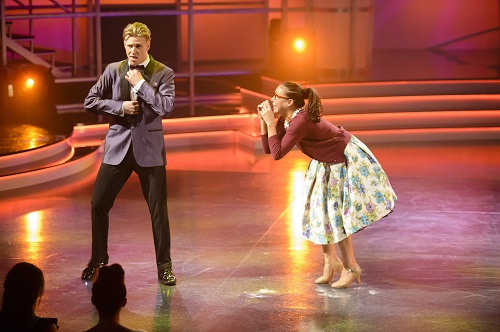 By Kristy Johnson of Dance Informa Australia.


This week we saw a group performance, choreographed by Stephen Tannos. There was a mix of different dance styles including Bollywood, contemporary and break dancing that showcased the dancer's abilities and resulted in a standing ovation.

The bottom six for this week was announced to be Yukino, Nadiah and Zoey for the girls and Jordan, Michael and Patric for the boys. However, Zoey was saved from elimination by the judges at the beginning of the show.

The first couple to perform for the night were Eden and Blond. With Debbie Ellis as choreographer, the duo performed a contemporary number. The piece looked at the inability to say what we really feel, and required the dancers to be identical in their movement. Their hard work paid off as they received a standing ovation from the judges and crowd. Paul commended the duo for going the extra mile every single week and Jason thought the piece was simply 'magnificent'.

Next we saw Renelle and Jordan perform a Broadway number to 'Ladies Choice' by Zac Efron, choreographed by Michael Ralph. This was the first time Renelle and Jordan have danced together. The piece inspired by Hairspray, the musical, required Renelle to play a 'nerdy' character and Jordan 'the cool cat'. Aaron found there was still some precision and snap missing in Jordan's movement, and similarly Shannon wanted Jordan to have more energy and produce more hard-hitting movement.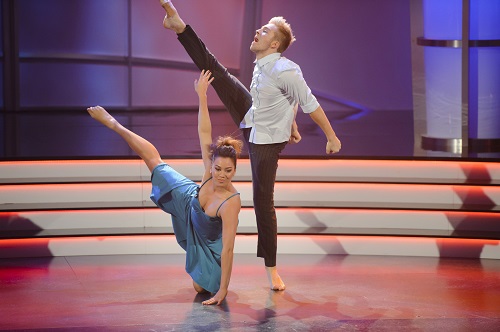 Maddie and Chris performed a quickstep routine by Leanne Bampton, to 'Bang Bang' by Will.I.Am. Maddie had doubts at first, and it was obvious to see from the footage that rehearsals had been tough. Paula thought that Chris did a great job of embodying the character, and asked Maddie to work on building core strength. Jason thought the performance was really good, however the quick step, not so good. He also wanted the dancers to maintain body contact with one another.
Yukino and Stephen brought a contemporary jazz number to the stage, choreographed by Top 100 contestant Adrian Ricks, to the song 'Locked Out Of Heaven' by Bruno Mars. The piece provided a challenge for Yukino in that it required a lot of technique and for her to improve on her partnering skills. Aaron found that Stephen was not as good in this genre, whereas Paula thought Stephen continues to show up week after week.

Lauren and Patric performed the Viennese waltz to 'I Won't Give Up' by Jason Mraz, and choreographed by Anya Garnis. The piece looked at two soul mates where circumstances keep tearing them apart. Shannon simply described the piece as 'glowing', Paula commended Patric on his versatility as a dancer, labelling him a chameleon and Jason thought they were the perfect partnership.

Zoey and Sam performed a jazz number to 'Unconditionally' by Katy Perry, and choreographed by Marko Panzic. The piece required great chemistry from the pair with the storyline involving someone you simply can't live without. Shannon thought Zoey so deserved to be in the competition especially after this particular performance, and Aaron found the piece to provide a lovely connection and enjoyed it.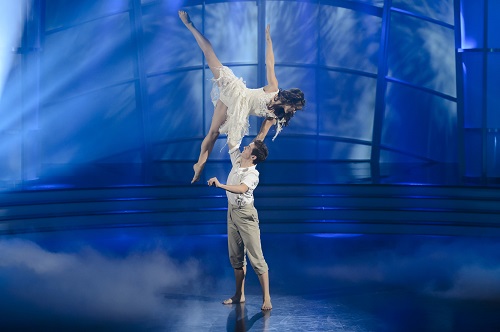 Ashleigh and Jay were next to perform a lyrical hip-hop routine to 'Hold On We're Going Home' by Drake and choreographed by Parris Goebel. The piece looked at two strangers who meet at a bus stop. In the rehearsal footage, Ashleigh was worried about the intricate choreography and found it difficult to evoke the chemistry needed, however these were just doubts. Shannon thought they did a really good job with the combination of different dance styles including popping, waving and tracing. Paula also thought they did a great job, and labelled them frontrunners.

Nadiah and Michael were the last of the couples to perform on the night. Stephen Tannos returned as choreographer for this piece, creating a number that delved into a really destructive relationship where the individuals start to lose their identity, to 'Crazy' by Alice Russell. Nadiah suffered an injury to her rib area throughout the week, yet on stage it was hard to believe she had an injury with her performance being solid. Aaron thought Michael was magnificent, displaying a maturity and masculinity to his dancing, and Jason commended Michael for making everything look so easy, as well as congratulating Stephen Tannos for creating yet another amazing routine tonight.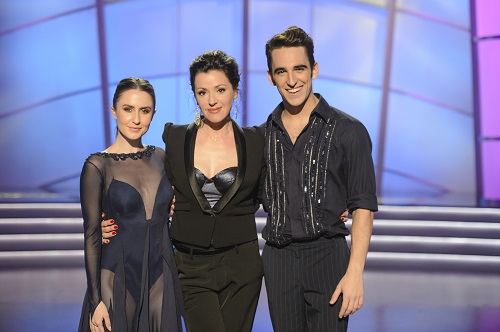 Highly acclaimed Australian singer Tina Arena performed a new song from her upcoming Australian tour with past So You Think You Can Dance winners Jack Chambers and Talia Fowler taking to the stage. It was great to see both dancers returning to the series that cemented their status as one of Australia's favourite dancers. We got the chance to ask Tina on the best advice she has ever received throughout her career:

"Always be true to yourself – as a person, artist and entertainer."

And finally we saw the dance for your life segment. The judges were unable to agree on two dancers to leave the competition, and hence left it to the audience. Sadly Jordan and Nadiah were to leave the competition this week.