SYTYCD first eliminations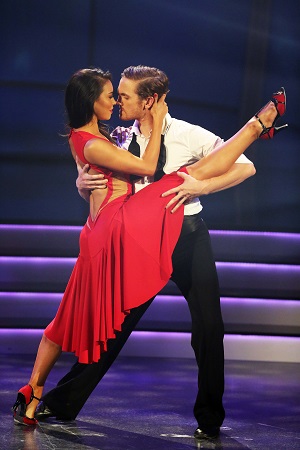 Week two of the live performances on So You Think You Can Dance Australia saw the first dance-for-your-life. The three lowest scoring girls were Zoey, Kathaleen and Nadiah, and the three lowest scoring boys were Stephen, Joel and Thabang. But first, let's review the duo and group performances of the night.

The first of the duos to start off the night were Ashleigh and Jay, performing a Jazz number to 'Happy' by Pharrell, and choreographed by Simon Lind. It was the type of Jazz number where if you missed one count, then you would miss the rest of the sequence. The performance was fast and frenetic, and some of the judges were a bit worried about the tempo, having watched the rehearsal footage. Jason felt that halfway through the performance, Ashleigh and Jay found the groove, yet it lacked the energy and visual appeal that he would have liked.

Eden and Blond followed with a Contemporary Jazz piece by ex So You Think You Can Dance contestant and choreographer, Stephen Tannos. Performing to 'Everybody Wants to Rule the World' by Lorde, the piece looked at the need to be the best and could be interpreted as a play on the dance industry. By far, this was the standout performance of the night for me, where I even had goose bumps. Although Contemporary is out of Blond's comfort zone, it was a great partnership between the two dancers. They were both each other's student and teacher. I have a feeling this particular piece will be referenced throughout the entire season and possibly even the history of So You Think You Can Dance Australia, as one of the best performances.

Jordan and Sally performed a Contemporary number to 'Addicted To You' by Avicii, and choreographed by Jason Winters. The piece delved into the concept of addiction, and Jason used his tough love approach to steer the dancers in the right direction. The routine required the dancers to trust each other implicitly, yet the number was looking like a bit of a disaster in rehearsals. Jordan felt he wasn't comfortable with the steps (layout of the stage), yet his jump off the steps was simply spectacular on the night. The judges felt this was somewhat of a 'beige' performance, and came across as being a bit messy. They went on to say that sometimes you could overcompensate and let emotion take over the cleanliness of the piece. With such a strong subject matter to draw upon, Sally came off the better of the two, where Paula saw maturity in her. It was a hard subject matter for Jordan as the issue was close to home.

Patric and Lauren performed a Contemporary Hip Hop number to 'Fast Car' by Tracy Chapman, and choreographed by guest judge Chris Scott, straight from the US. The piece was a personal letter to Chris' dad, and involved a great deal of storytelling through movement. Patric and Lauren made the number look absolutely effortless. It was simplistic, yet still had the ability to move you. The crowd also agreed, giving them a standing ovation. Paula credited them as being forces to be reckoned with in the competition. It was urban dance that made you emotional.
Kathaleen and Chris performed a Samba routine to 'Natalie' by Bruno Mars, and choreographed by Aric and Masha. Kathaleen played the role of a vixen, using Chris' character as a potential one-night-fling. Jason felt Kathaleen performed better this week, with Aaron agreeing there was more chemistry than what was shown between Kathaleen and Thabang the week before. Shannon thought Chris was 100 per cent dedicated to the routine, and Paula found him to be giving as a partner.

Stephen and Yukino performed a Broadway Jazz number to 'Sing Sing Sing' by Benny Goodman, and choreographed by Cameron Mitchell. It was set in a hotel lobby, where Yukino took on a flirtatious sexy role. This performance was a challenge for Yukino, having come from an Urban Hip Hop background. Shannon thought Yukino did a great job but should work on having more extension in her lines. Paula loved Stephen in the musical theatre genre, and Aaron agreed that Stephen was clean and precise in his movements.

Thabang and Maddie went off to a rocky start in their Waltz routine. They danced the steps nicely but overall it felt a bit vacant, lacked chemistry and came across as having no body contact or emotional connection. Paula didn't find the piece to be believable, and Jason and Aaron questioned whether Thabang made a great partner.

Joel and Renelle took on a Zouk Lambada piece to 'Climax' by Usher. It was a sensual and sexy number, and definitely out of Joel's comfort zone. However he gave it his all, and despite a few cheesy faces here and there, the pair had great chemistry and the piece came off as believable. The dance ticked nearly all of the boxes for the judges, with Aaron commending Joel on his versatility as a dancer and commitment to each genre so far, and Shannon believing in this particular partnership.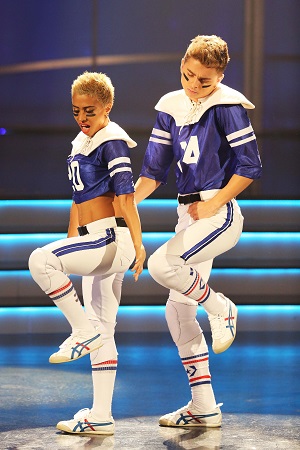 Michael and Nadiah took on a twerking number by Nicki Minaj, and choreographed by Tiana Canterbury. Although both committed to the piece and are exceptional dancers, not everyone was a fan of this one. With twerking being a primarily female dance style, not all were comfortable watching Michael twerk. Michael tried to make it look as manly as possible and gave a strong performance, however I do have to agree that twerking should be left to the females.

Sam and Zoey performed a Contemporary number to 'Forever Young', choreographed by Paul Malek. It was a definite tearjerker, and was about a mother losing her child. It required great emotional depth, and Zoey was 100 per cent believable in the role. It was all about Zoey Sunday night, although Sam also didn't put a foot wrong. Although only 18, Sam is maturing at a fast pace in this competition and is definitely one to watch.

The top twenty performance to 'Radioactive' by Kendrick Lamar, choreographed by Chris Scott, was everything you would expect of a powerful and energetic number from this much loved choreographer. There was an equal strength between the guys and girls, where I felt there were no standout performers, but rather just a standout performance.
And finally the end of the night was a sad one with the dance-for-your-life, and eventual elimination of two contestants from the top twenty. While all six dancers gave it their all, it was a bit confusing as to why Zoey and Stephen were in the bottom six to start with, as they are both such strong and exceptional dancers. Unfortunately Thabang and Kathaleen were to leave the competition.

Tune in next week to see more exciting performances, and who next will be eliminated.