Sylvie Guillem coming to Melbourne in 2013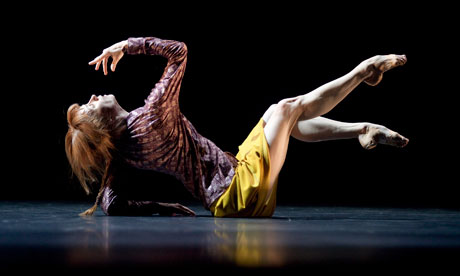 Melbourne Festival recently announced that Sylvie Guillem, widely recognised as one of the world's greatest dancers, will appear at the 2013 festival with 6000 miles away, her latest collaboration with three world-renowned contemporary choreographers – Mats Ek, William Forsythe and Jiří Kylián.
Following sold-out performances at London's Sadler's Wells, Venice's Dance Biennale and New York's Lincoln Centre, the festival performances of 6000 miles away will provide Melbourne audiences with a rare opportunity to experience Sylvie Guillem's physical prowess and some of the most technically sophisticated work of her career.
Described as "a love letter to Sylvie," the evening will feature a triple bill. First up is Jiří Kylián's work 27'52" performed by former Nederlands Dans Theater dancers Aurélie Cayla and Lukas Timulak to the music of Dirk Haubrich.
The second performance features iconic dance-maker William Forsythe's new duet Rearray for Guillem, with music by David Morrow.
Completing the evening is Bye, acclaimed Swedish choreographer Mats Ek's new solo for Guillem. Set to Beethoven's last piano sonata, Bye has been heralded as a "masterpiece" by Frankfurter Allgemeine Zeitung.
"Sylvie Guillem's accomplishments as a dancer of unparalleled skill and masterful interpretation have ensured her a special place in the hearts of audiences, choreographers and artists the world over," said Josephine Ridge, Melbourne Festival's Creative Director.
"We look forward to welcoming her to Melbourne together with the other exciting dancers in this exceptional program of works by three masters of contemporary dance."
The Melbourne season of 6000 miles away will be presented on October 26 and 27, 2013
 at Her Majesty's Theatre on Exhibition Street in Melbourne. Tickets go on sale in February 2013.
 Audiences can register for priority tickets via the festival's website at melbournefestival.com.au.
6000 miles away will also appear at the 2013 Adelaide Festival on March 1,3 and 4 at the Adelaide Festival Centre, as well as the Sydney Opera House on March 8, 9, 11, 12, 14 and 15.
Photo: Sylvie Guillem performing Bye. Photo by Lesley Leslie-Spinks, courtesy of Melbourne Festival.