SYDNEY DANCE COMPANY
Sydney Dance Company's Pre-Professional Year offers nationally recognised qualifications, delivering CUA50113 – Diploma of Dance (Elite Performance) and CUA60113 – Advanced Diploma of Dance (Elite Performance). Both qualifications are delivered through an auspice arrangement with Australian Teachers of Dancing Limited (RTO 31624).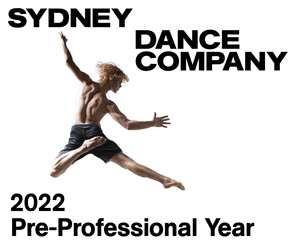 Course Details
Encompassing a wide spectrum of industry based dance practices, the Pre-Professional Year dancers train as an ensemble and work with over 40 choreographers, teachers and company affiliates each year. The expansive and highly curated program offers a diverse range of practices and movement philosophies, forging a direct link to the global contemporary dance community.
Throughout the program, analytical and critical thinking is developed to process and manifest the wealth of knowledge, ideas and expertise that is openly shared. Each extended workshop, masterclass or choreographic development emphasises both the expansion of technical ability and the self-regard required in the professional setting.
Main Subjects
Contemporary dance techniques, classical ballet and biomechanical techniques, improvisation and composition, partnering, repertoire classes with members of Sydney Dance Company, repertoire and choreographic developments with over 35 national and international industry teachers per year, professional career development including audition techniques, yoga, Pilates, embodied anatomy, nutrition and injury prevention and conditioning in Sydney Dance Company's purpose-built conditioning studio. The 2022 Pre-Professional Year program will conclude with a graduation season of choreographic works and Sydney Dance Company repertoire.
Practical Classes
Ten technical sessions per week
Five 3-hour guest workshops per week
Contact Hours
32.5 hours per week
Main Teachers
Sydney Dance Company's Head of Training Linda Gamblin, Pre-Professional Year Course Coordinator Omer Backley-Astrachan, Training Associate Gabrielle Nankivell, Sydney Dance Company's Rehearsal Director Richard Cilli and Rehearsal Associate Charmene Yap along with Company dancers when in residence. Pre-Professional Year Dancers have week-long workshops with guest choreographers and Sydney Dance Company's Artistic Director Rafael Bonachela.
AUDITION DETAILS
Pre-Requisites
All applicants applying must be turning at least 18 years in the year of enrolment and demonstrate competency in classical and contemporary dance technique. Eagerness to explore collaborative processes and choreographic developments are encouraged. Applications are open to Australian and New Zealand citizens or permanent residents.

Audition dates
Applications are open now and close Monday 6 September 2021. Shortlisted applicants will be invited to audition on Monday 20 September 2021 at Sydney Dance Company Studios, Wharf 4/5, 15 Hickson Road DAWES POINT, NSW 2000. For more information and to apply: www.sydneydancecompany.com/advanced-training/pre-professional-year

Audition requirements
Applicants are required to submit a CV and show reel in addition to their application. A non-refundable application fee of $55 is required. Shortlisted applicants are to make their own way to Sydney to attend their Audition Workshop on Monday 20 September 2021. If you are unable to attend there is an option to submit a Video Only Audition. Contact fulltime@sydneydancecompany.com for further information.
Contact

Linda Gamblin, Head of Training
Phone: (02) 9258 4805
Email: fulltime@sydneydancecompany.com
www.sydneydancecompany.com/advanced-training/pre-professional-year