Support ballet education with World Tutu Day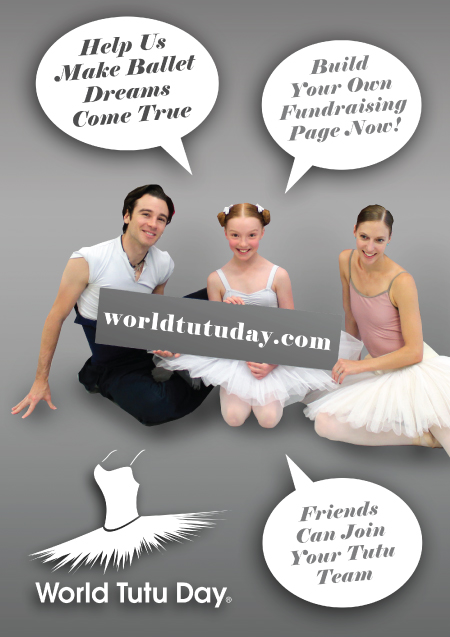 World Tutu Day is a new worldwide fundraising event in support of ballet education. The inaugural World Tutu Day was held last year on "Tu Tu 2014" (February 2, 2014.) The second annual event will be held on the same day this year.
Founded by The Australian Ballet School and its longtime director, Marilyn Rowe OBE, World Tutu Day was a huge success in its first year. The inaugural event, which was mostly Australia focused, has a goal of one day going global.
In the future, the plan is to have funds raised in other countries for World Tutu Day, with all proceeds going to support top ballet schools all over the world. This will hopefully enable schools to offer their programmes to those students who have the talent but not the means to succeed.
For now, the event continues to stay localised in its focus. All funds raised from Australia will help The Australian Ballet School to maximise its accessibility to talented students by providing scholarships and bursaries to those in need. It will also benefit all students by supporting the School's health and welfare programmes.
Likewise, funds raised from New Zealand will contribute to supporting students who have come from New Zealand to study at The Australian Ballet School.
For more information, visit the World Tutu Day website. It is a fun and easy way to get friends together and raise funds to help ballet dreams come true. Also, check out Dance Informa's World Tutu Day page at worldtutuday2015.everydayhero.com/au/dance-informa.