STEPS Youth Dance Company to hold auditions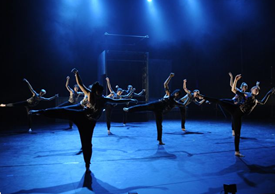 STEPS Youth Dance Company will celebrate 25 years in 2014! A professional dance company that works with and for young people, STEPS seeks to activate dancers' inner artist. The company has recently announced that it will be holding auditions to select 60 young dancers for next year's program.
Based in Western Australia, STEPS leads dancers in a yearlong program that includes weekly company training, workshops and production. Following the upcoming auditions, 60 dancers will be selected as company members to participate in the 2014 program. Dancers will be selected across three tiers according to age, skill level and readiness: Junior (age 7-12), Green (age 12-17) and Militia (age 15+, advanced).
Auditions will be held Sunday 24 November, with callbacks on Sunday 1 December. The audition process will include a movement warm-up, a short dance phrase and participation in a creative task, all based in contemporary/creative dance. All auditions will be held at the King Street Arts Centre in Perth.
For more information on the STEPS auditions, visit stepsyouthdance.com.au.
Photo courtesy of STEPS Youth Dance Company.