Steps offers Aussies chance to train in NYC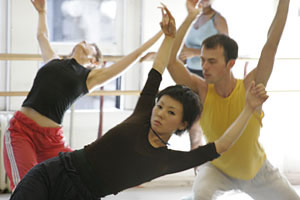 Steps on Broadway offers Aussie dancers a way to train full time in New York City through the International Student Independent Study Program (ISISP.) As part of the program, students are able to select from a wide array of classes, workshops and performance opportunities.
Dancers must be at least 18 years old to be eligible and must be accepted by Steps. Completed applications are due at least two months prior to enrollment date. Each applicant is evaluated on an individual basis.
Semesters begin on the first Monday of every month and students can choose to stay three, six or 12 months as part of the program. For ISISP, dancers create their own dance schedule (48 classes per month) from over 40 daily classes in ballet, pointe, floor barre, contemporary, modern, theater dance, jazz, hip-hop, tap, world dance, Pilates, yoga, Gryokinesis and Zumba.
The program's courses are led by Steps' faculty, which is comprised of internationally recognized and established dance professionals. Guest instructors, choreographers, directors and performers are regularly added to the roster, further enhancing the scope of the dancers' experience and training.
The faculty's professionalism, creativity and talent combine to provide an exciting and diversified program that fosters artistic growth and offers a strong introduction to the professional world of dance.
In addition to ISISP, Steps offers Aussies the chance to participate in Summer Study NYC, a contemporary summer intensive, and the Steps Conservatory Program, which has a ballet/contemporary and a theater dance/jazz focus.
For more information on Steps' opportunities for Aussie dancers, visit www.stepsnyc.com. For specific inquiries, contact Cassie Bednall, Director of Student Programs, at Cassie@stepsnyc.com.
See Dance Informa's 2015 Full Time Dance & Auditions Guide to learn more about the best full time courses in Australia, New Zealand and New York.
Photo: Students at Steps on Broadway. Photo by Paul B. Goode.