'South Pacific' to tour coast-to-coast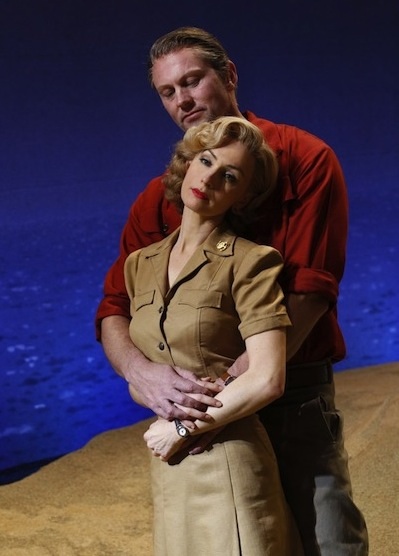 After the box office success of the breathtaking and lavish Rodgers & Hammerstein musical South Pacific in 2012, an extended season will see it continue its Australian tour, playing from coast-to-coast with seasons at the Sydney Opera House and Perth Crown Theatre before coming to Adelaide for a strictly limited season from December 29, 2013. This production of South Pacific is based on the Lincoln Center Theater production first performed in New York in March 2008.
Stars of stage and screen join the cast for the 2013 season of South Pacific, including Lisa McCune, Teddy Tahu Rhodes and Christine Anu. Acclaimed opera star Teddy Tahu Rhodes and Australia's best loved and four-time Gold Logie award-winning actress Lisa McCune head the stellar cast as Emile de Becque and Nellie Forbush. Sensational performer Christine Anu will play the role of Bloody Mary, following her highly successful appearances in the Brisbane season.
Lisa McCune relished her role in South Pacific in 2012 and is looking forward to her return season. "The way it's been received around the country has been fantastic," she said after the Sydney, Melbourne and Brisbane tour. "It was especially glorious to perform at the Sydney Opera House. That was on my bucket list! Doing theatre is such a different discipline – sustaining a performance for three hours on stage is like a freight train that doesn't stop! It's scary but I love it."
Christine Anu had just two weeks to prepare for her debut as Bloody Mary ahead of the Brisbane season last December, but she relished the challenge and was a smash hit. She said, "I have to become Bloody Mary and there is not a trace of me that anybody can see on stage. My hair is transformed, my face is transformed, my teeth are absolutely transformed…. I love the fact I get to be someone completely different every night!"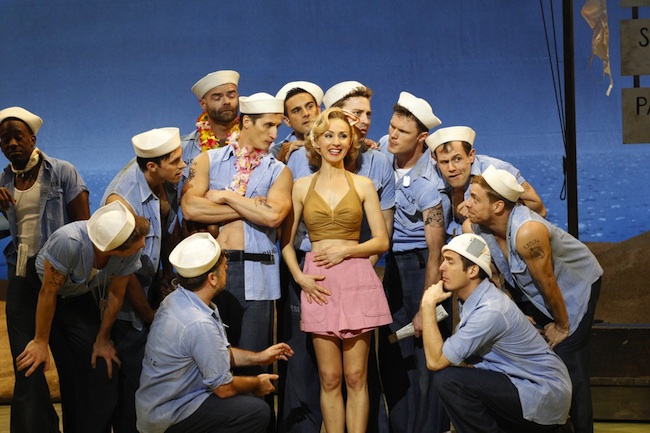 South Pacific, directed by Broadway dynamo Bartlett Sher, swept the 2008 Tony Awards and played to sold-out houses in New York for two and a half years before commencing a tour of the USA. A sell-out London Season was followed by a UK tour, before reaching Australian shores where it became a smash hit. The first Sydney season last winter, became the highest selling show ever performed at the Sydney Opera House.
Set on a tropical island during World War II, South Pacific is the sweeping romantic story of two couples, threatened by the realities of war. Nellie (played by Lisa McCune) is an American nurse on a US naval base on a remote island somewhere in the Pacific. Emile (played by Teddy Tahu Rhodes) is a French plantation owner. They fall in love but as Emile's colourful past emerges, Nellie loses her nerve. It may be paradise but their world is still full of prejudice and racism.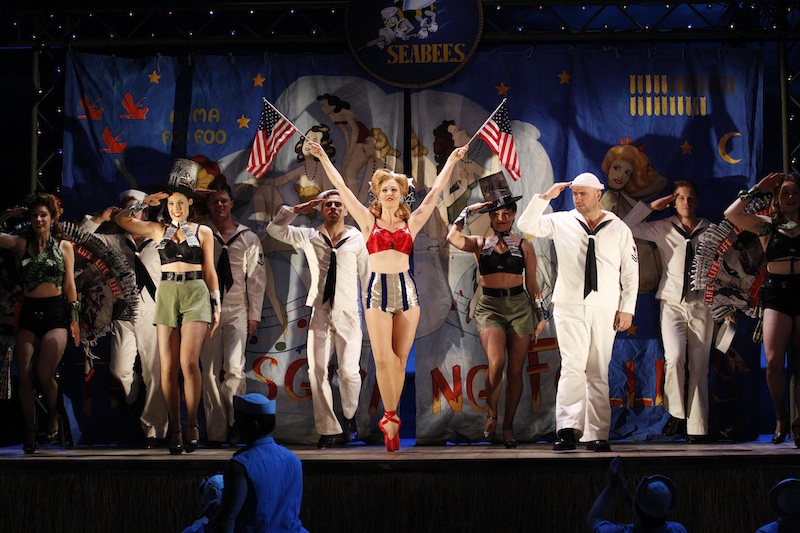 The musical was written by Rodgers & Hammerstein and first performed on Broadway in 1949, based on the Pulitzer-winning novel Tales of the South Pacific by James Michener. Throughout its 63-year history, the musical production of South Pacific has been performed almost continuously in theatres around the world, including Australia.
Back by popular demand, South Pacific will be presented at the Sydney Opera House from Saturday 7 September. The smash hit production will then come to the Perth Crown Theatre from Sunday 10 November. Finally, with much anticipation, the musical will visit the Adelaide Festival Theatre from Sunday 29 December.
For more information or to book tickets, visit http://southpacificmusical.com.au.
Photo (top): Lisa McCune as Nellie Forbush and Teddy Tahu Rhodes as Emile De Becque in South Pacific. Other photos: South Pacific ensemble. Photos by Jeff Busby.