'Slow Dances for Fast Times' at Carriageworks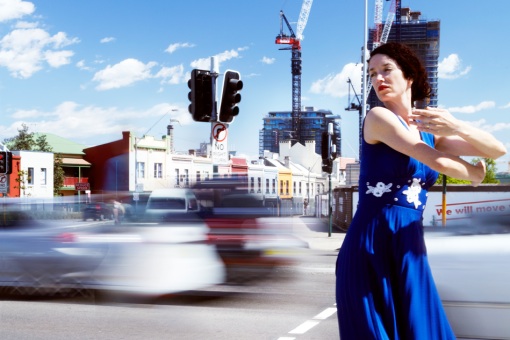 Slow Dances for Fast Times is the dance equivalent of a concept album – one elaborate dance event comprising 12 intimate solo performances. Intentionally fun and deliberately diverse, this dynamic new production taps into the musical memory of onlookers by setting each of the pieces to a pop or dance music classic from the past 50 years.
Choreographed by critically acclaimed choreographer Martin del Amo, the work is performed by an eclectic mix of high profile dancers and set against a stylized backdrop of mirror balls and velvet curtain. Carefully contrasting the classical and the grand with the intimate and poetic, the work results in a rich weave of textures, rhythms and sounds which traverses a broad spectrum of dance styles and cultural influences.
Slow Dances for Fast Times will be presented by Carriageworks from 6 – 9 March 2013. It follows the success of del Amo's Helpmann Award-nominated work Anatomy of an Afternoon, which played to sold-out houses at Sydney Opera House as part of the 2012 Sydney Festival. According to del Amo, his latest work has been designed to reflect the adventurous, open-minded approach to collaboration that characterises the independent dance sector in Australia today.
"This new work has been an exciting opportunity to continue my interest in the development of solo dance work while developing collaborative relationships with highly skilled dancers from across the country with whom I have not previously worked," del Amo said.
"Each of the dancers brings their own unique background and signature style to the works with an unexpected and eclectic array of performances. I see each of the works as mini portraits, bringing many artists together under one unified theme with dynamic and surprising results."
The soundtrack of the works covers a diverse range of genres traversing international music hits over the past five decades, ranging from a 1960s soul track by Dusty Springfield to a 1970s rock anthem by Jimmy Hendrix. The music continues into the 1990s with dance club classics including tracks by Portishead and 2000s radio favourites by Regina Spektor and Antony and the Johnsons. The eclectic musical theme is completed with a Spanish torch song and even an operatic aria.
Like the soundtrack, del Amo's choice of dancers is deliberately diverse. Each of the performers comes from a distinctively different cultural and artistic background. They are also of varying ages, physicalities and cities across Australia. From Jane McKernan and Elizabeth Ryan, who are known for their work with The Fondue Set, to Vicki Van Hout who has been highly successful with Briwyant. Likewise, Sara Black is best known for her frequent collaborations with Chunky Move, and Kirk Page through his work in musical hit shows such as Priscilla – Queen of the Desert.
Del Amo has set the works against a richly dramatic backdrop to create an event-like atmosphere. For the production, the artist is working in collaboration with award-wining production designer Clare Britton, who is best known for her work as a performer with My Darling Patricia. As well, del Amo is working with the Helpmann Award-nominated lighting designer Matt Marshall. Above all, del Amo explains, he seeks to present a dance work that is accessible and fun for audiences, while also toying with their expectations of contemporary dance.
"We're using pop songs that are instantly recognisable in order to connect with people's vivid memories of where they were when they first heard that song. Perhaps it triggers memories of a first kiss or a last school disco, tapping into individual emotions for each audience member, be they positive or negative," del Amo said.
"The work is ultimately a contrast of the grand and the intimate. On one hand, we are presenting a large, elaborate show in a classic dance recital setting. On the other, we are showing 12 solo performances which create an intimate moment of exchange between audiences and the dancer. It's a play on traditional conventions of dance and asks audiences to question if those expectations can be shifted," he said.
Slow Dances for Fast Times will be presented at 8 p.m. on 6-9 March at Carriageworks, located at 245 Wilson Street Eveleigh in Sydney. Tickets are $35. For more information, visit www.carriageworks.com.au.
A free post-show talk will be offered Friday, March 8. It will include a Q&A session with Martin del Amo and the full cast led by Emma Saunders, a founding member of the award-winning Sydney-based dance trio The Fondue Set and former dance curator at Campbelltown Arts Centre.
Also, a free master class with del Amo will be presented Saturday, March 9 from 10 a.m. to 12 p.m. This master class takes an investigative approach to dance making, exploring various improvisational and compositional strategies to generate, structure and analyse solo dance material. It will offer an insight into some of the choreographic processes employed in the making of Slow Dances For Fast Times. This master class is already full.
Photo: Slow Dances For Fast Times. Image by Zan Wimberle.