SDC's 2015 Pre-Professional Year Audition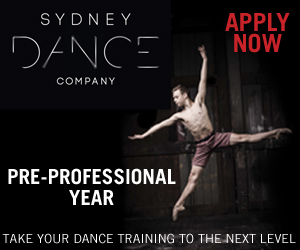 For the second year, Sydney Dance Company, one of Australia's most successful and well-known contemporary dance companies, will offer its Pre-Professional Year.
Sydney Dance Company's Pre-Professional Year provides a unique opportunity for aspiring professional dancers to attend a one-year, full-time training course with Australia's leading contemporary dance company. Open to dancers that are at least 18 years of age in 2015, this nationally accredited intensive offers students the chance to work with some of Australia's most successful and award-winning choreographers and educators.
"Now in its second year, Sydney Dance Company's Pre-Professional Year provides a strong training ground for the next generation of professionals," said SDC Artistic Director Rafael Bonachela. "As one of the most recognised and respected contemporary dance companies in Australia, it's wonderful to be able to connect with students and provide them with invaluable training opportunities, knowledge and professional experience so that they can then go and launch rewarding careers in the creative industries."
As part of the course, students will develop their technique, artistry and performance skills alongside members of Sydney Dance Company, led by Bonachela. Areas of study include: contemporary dance technique, classical ballet technique, improvisation and composition, partnering, yoga, Pilates, nutrition, injury prevention, choreographic development and performance opportunities and audition techniques. In addition, students will participate in repertoire classes with members of SDC and workshops led by international choreographers.
"Sydney Dance Company's Pre-Professional Year is an outstanding opportunity for aspiring dancers to gain exposure to Australia's leading contemporary dance company," said Darcey Bussell, CBE. "Students will develop all the skills essential for a lifelong career in contemporary dance as well as being provided with unique professional development, networking and mentorship opportunities under the guidance of the [SDC] artistic staff."
The Pre-Professional Year includes a nationally recognised outcome (qualification CUA40113 Certificate IV in Dance) through a partnering arrangement with Australian Teachers Of Dancing (ATOD.) As an approved course, dancers may be eligible to apply for Youth Allowance.
Applications for the 2015 Pre-Professional Year are now open. Entry to the course is by application followed by an invitation-only audition, which will be held on September 14 at the company's Sydney studios.
For more information on how to audition, call 02 9258 4800 or visit 
www.sydneydancecompany.com. Sydney Dance Company Studios 
are located at Pier 4, 15 Hickson Road, 
Walsh Bay NSW 2000.
See Dance Informa's 2015 Full Time Dance & Auditions Guide to learn more about the best full time courses in Australia, New Zealand and New York.