Royal Caribbean Productions' April Auditions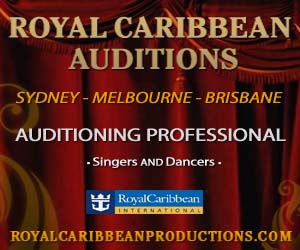 Royal Caribbean Productions will be holding auditions for singers and dancers in Sydney, Melbourne and Brisbane in April. Royal Caribbean is currently casting professional singers and dancers for shows to be presented onboard their cruise ships, which travel to waters all over the world.
Royal Caribbean has the industry's highest rated, most innovative production shows currently being presented on the high seas. Their theatres include a two-story fly-loft, seat 1,350 to 1,850 guests, and allow viewers to experience the most technically advanced theatre afloat.
With the launch of OASIS and ALLURE of the seas, Royal Caribbean will present the Aqua Theatre that can seat more than 600 theatergoers 
to enjoy the spectacular High Divers and Synchronized Swimmers.
Stylistically, Royal Caribbean Productions is seeking singers who can perform pop/rock, R&B, contemporary musical theatre/Broadway and jazz. For auditions, singers should come prepared with their best 16-32 bars of a ballad and up-tempo. Sheet music is required in the proper key. An accompanist will be provided. Also, singers should come prepared to do movement combinations.
Dancers who are auditioning must have strong technical training with a significant background in jazz. The Royal Caribbean choreographer will teach dancers three challenging combinations at the audition. Also, flying and tumbling skills are a plus.
Royal Caribbean offers 
seven to eight month performance contracts, paid rehearsal periods, guest cruise privileges, professional working environments, contemporary musical stage productions, excellent salaries and exotic itineraries.
To tryout for a chance to be a singer or dancer with Royal Caribbean Productions, attend one of the following auditions:
SYDNEY
Sunday, April 6
Dance 102 Performing Arts
6/9-17 Young Street, Neutral Bay
Dancers – Sign-in at 9 a.m., Audition at 9:30 a.m.
Singers – Sign-in at 1:15 p.m., Audition at 1:45 p.m.
MELBOURNE
Tuesday and Wednesday, April 8 and 9
Dance Factory
4-10 Yorkshire Street, Richmond
Singers – April 8th – Sign-in at 9 a.m., Audition at 9:30 a.m.
Dancers – April 9th – Sign-in at 9 a.m., Audition at 9:30 a.m.
BRISBANE
Friday, April 11
DLDC/Davidia Lind Dance Center
2/50 Secam Street, Mansfield
Dancers – Sign-in at 9 a.m., Audition at 9:30 a.m.
Singers – Sign-in at 1:15 p.m., Audition at 1:45 p.m.
Visit www.royalcaribbeanproductions.com for more information, or to submit and upload videos and/or links.