Romeo & Juliet to tour Brisbane, Adelaide and Perth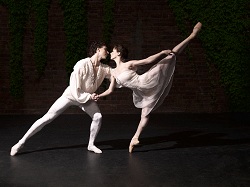 Following its 2011 world premiere, Graeme Murphy's Romeo & Juliet by the Australian Ballet is set to sweep audiences off their feet across Australia with seasons in Brisbane from 23 March, Adelaide from 25 May and Perth from 10 October. With his trademark dramatic style, Murphy has transformed the world's most famous love story into something entirely new yet timeless.
The artistic director of The Australian Ballet, David McAllister, says the production is pure enchantment on stage."A great big, dramatic story ballet, Romeo & Juliet is a lavish production that takes audiences on an unforgettable journey. Having blown audiences away in Melbourne and Sydney, we can't wait to share Murphy's magic with Brisbane, Adelaide and Perth in our 50th anniversary year. It will also be a special joy for some of our finest dancers to perform to their home town crowds," said McAllister.
Photo: The Australian Ballet's Kevin Jackson and Madeleine Eastoe. Photography by Georges Antoni