'Robotgirl' chosen to dance with Madonna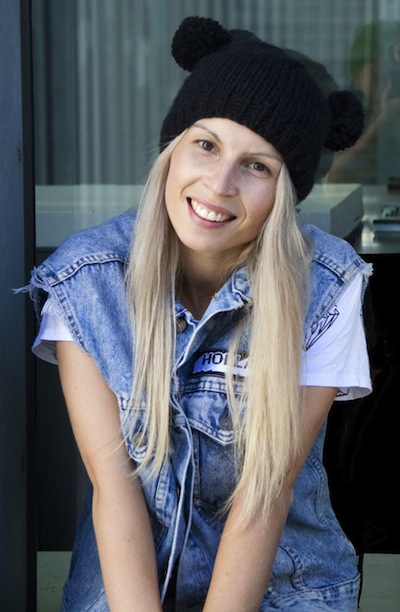 Australian dancer Arna Singleton (A.K.A. "Robotgirl") recently won the opportunity to dance with Madonna at the Grand Opening of Hard Candy Fitness Toronto in Canada.
Hard Candy Fitness, founded by Madonna, is new to Sydney, Australia, and for the past month it was on the search for talented dancers with great personalities to fly to Canada and dance with Madonna.
Audition day was Friday, January 31. A bunch of very excited, hopeful dancers and fans rushed through the doors. Dancers were taught the "Addicted To Sweat" routine, which is Madonna's very own class and is exclusively offered at Hard Candy Fitness.
Judges included: Chantel Curmi, who is currently in Beyoncé's film clip and tours with Jessica Mauboy and Ricki Lee; Samson Smith, a performer who was nominated for two ARIA awards and is part of the Justice Crew and recently toured with Ke$sha and Pitbull; and Joelle Hadjia, a Top 5 finalist of Series 5 of the X-Factor.
They went through in groups and finally got down to the top 20 dancers, then top three involving three rounds of dance-offs. And then Singleton was the lucky winner!
"I can't believe I was chosen! Madonna is my idol and I have been a fan since the age of five. This is seriously a dream come true for me and I am thrilled," Singleton said.
No overnight success story, Singleton's recent credits include: head choreographer for Fame – the Ultimate High School Musical FOX8 TV commercial, featured dancer for Jay Jay's 3D dance in-store and online campaign, choreographer to Honey Singh's music video Bring Me Back and a dancer for the T20 Big Bash League – Melbourne Redbacks.
Her other appearances include: a Lipton Tea 2010 nationwide TV commercial, The Footy Show Players Revue segment (Ch. 9), The Today Show (Ch. 9), The 7pm Project (Ch. 10), Good Friday Appeal Variety Concert (Ch. 7), Australia's Got Talent (Ch. 7), Big Day Out, and music video clips Double Dutch – CC Martini and Shouldn't Let Him Out – Polo Club.
Singleton also represented Australia at the world-class 'Body Rock' competition in San Diego (USA) in 2009, and is well known in the street dance community as an event organiser and advocator for the scene. Through her event work, she has successfully run: the hip-hop extravaganza at the Arts Centre known as Our Backyard for six successive years; Step Off!, an urban dance crew competition, for nine years; Push It! Hip Hop Arena at Push Over Festival for nine years; and multiple programs providing young people with free access to gain further opportunities to perform, produce music, gain skill development and professional exposure to become the next generation of hip-hop artists.
Singleton left Australia on Sunday with Hard Candy Sydney's lead "Addicted To Sweat" teacher Alissa Hall. She will train and practise with winners from all over the world all day on the day prior to the red carpet event. Check out hardcandyfitness.com.au for more details.
Photo: Arna Singleton. Photo courtesy of Karen Conrad Publicity.