Rob Guest Endowment Gala Concert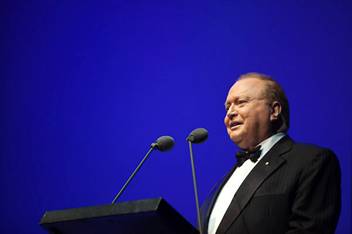 The annual Rob Guest Endowment Gala Concert is being held on Monday, Nov. 19 at Her Majesty's Theatre in Melbourne. Hosted by Bert Newton, Lucy Durack and Rob Mills, the night will feature performances by some of Australia's finest musical theatre stars, including the casts of A Funny Thing Happened on the Way to the Forum and South Pacific. Under the musical direction of Kellie Dickerson, these stars will perform alongside the six talented young finalists all vying to become the fourth recipient of the Rob Guest Endowment.
This year's concert promises to be a great evening of entertainment. The 2011 Rob Guest Endowment recipient Blake Bowden is performing Ragtime's "Wheels of a Dream." Chloe Dallimore takes to the stage with Seesaw's "Nobody Does It Like Me;" David Harris is singing Guys and Dolls favourite "Luck Be A Lady;" Michael Snell is singing "I Am What I Am" from La Cage aux Folles; Daniel Koek and Marika Aubrey are singing the duet "Remember Me" and Rob Mills and David Harris are performing The Secret Garden's "Lily's Eyes."
In addition, Christie Whelan performs "Buddy Beware" from Anything Goes; Christopher Horsey presents Me and My Shadow; the Wicked ensemble brings to the stage "Be Good;" and Silvie Paladino sings "I Will Always Love You" amongst other special performances.
"This is the fourth year that we have presented a concert to showcase the new wonderful musical theatre performers that we have in Australia," said John Frost. "It is a unique night, with performances from current musicals and many musical theatre stars performing together in some cases for the very first time."
Furthermore, in addition to the stellar line up of Australian musical theatre stars, there will be performances from the six talented Rob Guest Endowment finalists.
Some highlights from the finalists include Kirby Burgess (An Officer & A Gentlemen) performing "With You" from Ghost the Musical; Andy Conaghan (South Pacific) singing "Empty Chairs at Empty Tables" from Les Miserables; Euan Doidge (A Chorus Line, Legally Blonde the Musical) singing "Her Voice" from A Little Mermaid; Samantha Hagen (Rock of Ages) singing "The Wizard and I" from Wicked; Glenn Hill (Legally Blonde the Musical, Dr Zhivago) presenting The Secret Garden's "A Bit of Earth"; and Allyce Martins (Wicked) performing Oklahoma's "I Can't Say No."
Following hundreds of applications and auditions, these six finalists for the 2012 ANZ Trustees Foundation's Rob Guest Endowment were selected by judges Kellie Dickerson, Jason Coleman and Stuart Maunder.
"Rob always believed that no one gets to the top of their field on their own," said Kellie Dickerson. "It's remarkable what this type of support can do for a performers confidence and career."
In 2008, ANZ Trustees established a memorial fund in Rob Guest's honour to encourage emerging young performers in musical theatre. Recipients receive the opportunity to study in New York under the guidance of the best that Broadway has to offer to the value of $10,000.
This year, for the first time, a lucky runner-up will receive the inaugural Production Company Artists Development Award, which is a cash prize of $5,000 and features a guaranteed live performance in one of the production company's exciting seasons in the following two years. The remaining four finalists will each receive a $500 cash-prize.
The concert will be held at 7:30 p.m. on Monday, Nov. 19. Tickets range from $55 to $125. To book tickets visit www.ticketek.com.au. More information can be found on robguestendowment.com.
Photo: Rob Guest Endowment Gala Concert. Photo courtesy of ANZ Trustees.