Release of 'Cirque du Soleil: Worlds Away'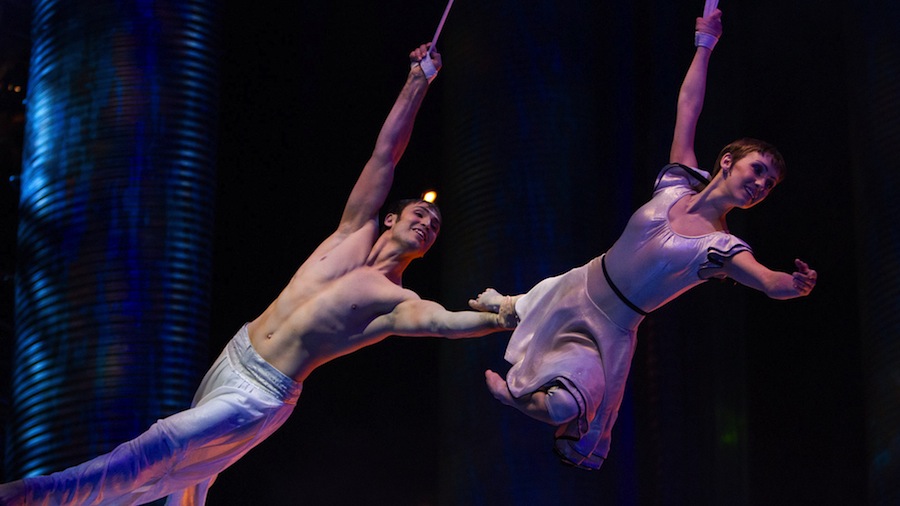 Cirque du Soleil: Worlds Away, a 2012 3D film directed by Kiwi filmmaker Andrew Adamson, is finally released to cinemas in Australia and New Zealand as of today, February 21. The film originally premiered on October 20, 2012 at the Tokyo International Film Festival and was later released theatrically in the United States in December. Cirque du Soleil: Worlds Away (rated G) is now showing in cinemas in Digital 3D and 2D in Australia.
A visual spectacle showcasing some of the troupe's most spectacular performances, Cirque du Soleil: Worlds Away is a project produced by visionary filmmaker James Cameron (Titanic and Avatar) and director Andrew Adamson (Shrek and Chronicles of Narnia). The duo decided to take some of Cirque du Soleil's world-renowned dancers, performers and actors from the big top to the big screen by making a storyline film.
It's a film about love at first sight that revolves around a young woman named Mia, played by actress Erica Linz. Mia goes to the circus and falls for the showman, The Aerialist. When the young couple is separated, they must journey through the astonishing and dreamlike worlds of Cirque du Soleil to find each other. Through their journey audiences experience the immersive 3D technology that allows them to leap, soar, swim and dance with other performers.
Cirque du Soleil: Worlds Away 3D is a beautiful, cinematic spectacle filled with the expected stunts and acrobatics typical of a Cirque du Soleil show. Cirque Du Soleil, known for the big, bold, creative and impossible, has had more than 100 million spectators see a show since 1984. To see this film's trailer or for more information, visit www.worldsaway3d.com.
Photos: Actress Erica Linz plays Mia in the cinematic feature Cirque du Soleil Worlds Away. Photos by Mark Fellman
© 2012 Cirque Du Soleil Burlesco, LLC. All Rights Reserved.