Queensland Ballet to tour new 'Giselle'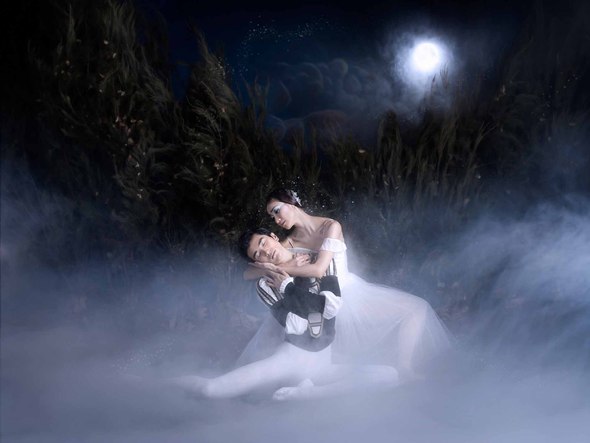 Audiences across the state can look forward to seeing Queensland Ballet's beautiful and haunting new production of Giselle later this month.
Giselle will premiere in Toowoomba at the Empire Theatre on Wednesday 22 May, kicking off Queensland Ballet's first regional tour under the tenure of new Artistic Director Li Cunxin.
Brisbane audiences will have the opportunity to see Giselle from 21 June to 6 July at the Playhouse at Queensland Performing Arts Centre.
The company is excited to share Giselle with Queensland audiences. Artistic Director Li Cunxin comments, "When I first saw Giselle it captured my imagination. It is a masterpiece of romantic ballet that epitomises the pure, classical style with a story that will touch everyone who sees it."
The ballet tells the tragic story of Giselle, an innocent village girl whose broken heart causes her to succumb to an untimely death. Deep in the moonlit forest, she emerges in the twilight spirit world of the vengeful Wilis spirits. When her repentant lover Albrecht visits her grave, only Giselle's undying love and devotion can sustain him through the Wilis' irresistible, deathly dance.
"We are committed to sharing our love of dance across Queensland, and I am thrilled to share this spellbinding and traditional production with our audiences," said Mr. Cunxin.
Queensland Ballet will perform Giselle in six regional venues: Toowoomba, Maryborough, Mackay, Caloundra, Gladstone and Rockhampton.
Minister for Science, Information Technology, Innovation and the Arts Ian Walker said he was delighted to see the Queensland Ballet playing a key role in the Queensland Government's commitment to increasing touring to the state's regions.
"One of the most important promises the Newman Government made to the arts was to increase the number of touring arts productions in communities across the state. We are committed to supporting our major state companies in their goal of touring regularly," Mr. Walker said. "This tour of Giselle is an excellent example of how we are making the arts accessible to all Queenslanders, not just those in metropolitan hubs."
Mr. Walker added, "The Queensland Government's Playing Queensland Fund – Boost to Touring – was set up for this purpose and will also support the Queensland Ballet's regional tour of Cinderella next year."
First performed in 1841 at the Paris Opera, Giselle remains as captivating today. Requiring exceptional technical and dramatic skills, this heart-rending tale of love, remorse and forgiveness will astound audiences.
Produced and staged by Ai-Gul Gaisina, the choreography is derived from Marius Petipa's revival for the Russian Ballet in 1884.
Ai-Gul Gaisana recognises Giselle's appeal as a traditional ballet. Gaisana said, "Giselle has survived to this day because it has everything required in a ballet. It gives dancers opportunities to express artistic qualities with technique. It also has human drama we can all relate to: emotions of love, betrayal, disappointments, joy."
Queensland Ballet's traditional production offers breathtaking, graceful dance to Adolphe Adam's expressive score, but ultimately it is the emotional depth of this exquisite work that will touch audiences' hearts.
The Camerata of St John's will perform the majority of Brisbane performances, conducted by Queensland Ballet's talented Music Director and Chief Conductor Andrew Mogrelia.
Mr. Cunxin's talented creative team also includes lighting designer Ben Hughes, and costume and set design which will be based on originals by Peter Cazalet.
Queensland Ballet will also host a series of free regional dance workshops for primary and secondary school students while on tour. The Giselle Ghost Dances, Creative Movement and Ballet workshops will be led in schools across Queensland by the company's EdSquad.
For more information on the regional tour of Giselle, visit www.queenslandballet.com.au.
Photo: Queensland Ballet presents Giselle with dancers Hao Bin and Meng Ningning. Photo and Artistic Direction by Alexia Sinclair.