Queensland Ballet breaks box office record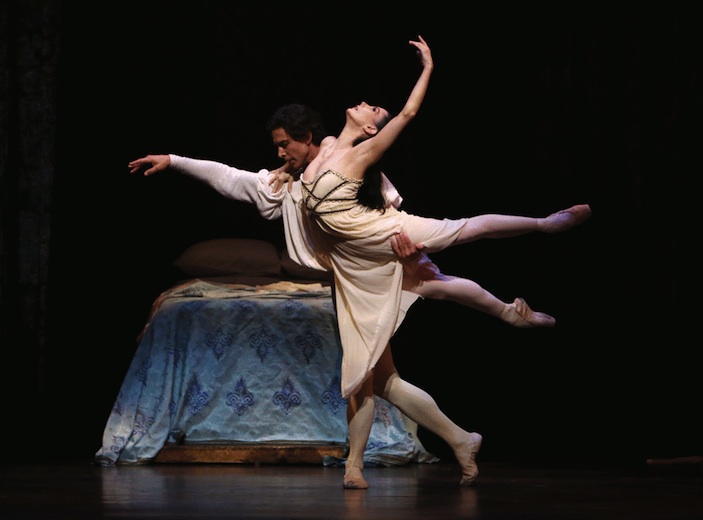 Queensland Ballet's Australian première of Sir Kenneth MacMillan's iconic Romeo & Juliet production has broken a 54-year box office record.
This world famous production of Shakespeare's tragic tale of star-crossed lovers, with guest appearances by international ballet stars Tamara Rojo, Carlos Acosta and Steven McRae, exceeded $1.1 million in box office takings, and was seen by over 15,000 people across eight performances from Friday, June 27 to Saturday, July 5 at the Lyric Theatre, QPAC.
Queensland Ballet's CEO Anna Marsden said that Romeo & Juliet is now Queensland Ballet's highest-selling ballet in the company's rich 54-year history.
"The season of Romeo & Juliet was a huge success, reaching 97 percent of capacity, and five out of eight performances completely sold out," Marsden said. "We were also pleased to welcome so many new patrons – over 50 percent of those that booked tickets had never purchased a ticket to Queensland Ballet before."
Artistic Director Li Cunxin said he is immensely proud of the company's success.
"It was a huge coup and honour for us to perform Sir Kenneth MacMillan's Romeo & Juliet, and we performed our hearts out to great critical acclaim. I couldn't be prouder of the dancers, and every single person at Queensland Ballet who made this production such a smash-hit success," comments Cunxin.
Lady Deborah MacMillan, who granted the company the rights to perform her late husband's iconic work, was extremely impressed with Queensland Ballet's production of one of Sir Kenneth MacMillan's most renowned ballets.
"I think the company is stunning," she said. "The dancers are keen and eager to do the roles, and this shone through in the performances. I'm excited, and thrilled."
Guest star Tamara Rojo, principal dancer and artistic director of the English National Ballet, thinks Queensland Ballet is world-class.
"It's been a pleasure working with Queensland Ballet. The company is completely committed to Kenneth's choreography and the characters," Rojo stated. "This is a company hungry for new challenges and embracing them whole heartedly. It has been a pleasure to be here."
This super star project was made possible by the generous support of the Super Star Fund, a Queensland Government program that delivers super star performances exclusive to the state.
Arts Minister Ian Walker said Romeo & Juliet exemplified what the state wanted to achieve in the performing arts.
"World-class choreographers and dancers working with Queensland professionals to bring the best of their art to local audiences, breaking box office records and showing the rest of Australia what can be achieved with hard work, imagination and a dream-big philosophy, is a huge accomplishment," Walker said. "Queensland Ballet has achieved this result with grace and distinction."
He added: "It's great to see box office records smashed with this production of Romeo & Juliet."
Lady MacMillan notes that working with international guests is great for Queensland Ballet dancers and the company at large as well.
"Dancers learn from working with other dancers. To have them on the stage with someone like Carlos Acosta, Tamara Rojo and Steven McRae will have given them the most fantastic experience," said Lady MacMillan. "Kenneth was always interested in helping younger dancers to develop their gifts, and this was a golden opportunity to do that."
There is no doubt this production will leave a lasting legacy, comments Cunxin. "It was always my dream to dance Kenneth's Romeo & Juliet, but seeing our dancers perform it has filled me with such happiness, I feel a greater dream has been realised."
"From the stars coaching of our dancers, a brunch at Brisbane City Hall featuring an in-depth conversation with Lady Deborah MacMillan, to Carlos Acosta giving a book reading at GOMA – this super star project will leave a legacy for the company, and Queensland audiences for many years to come," Cunxin concluded.
Audiences can next catch Queensland Ballet in their upcoming season of Flourish, in which the company will present four astounding and starkly beautiful dance works that reveal the myriad expressive possibilities of dance. Flourish is on at the Playhouse, QPAC on August 1-9. To find out more, visit www.queenslandballet.com.au.
Photo: Guest star Tamara Rojo as Juliet with Queensland Ballet Principal Dancer Matthew Lawrence as Romeo.
 Photo by David Kelly.