Q2 Dance shines at Showcase Championships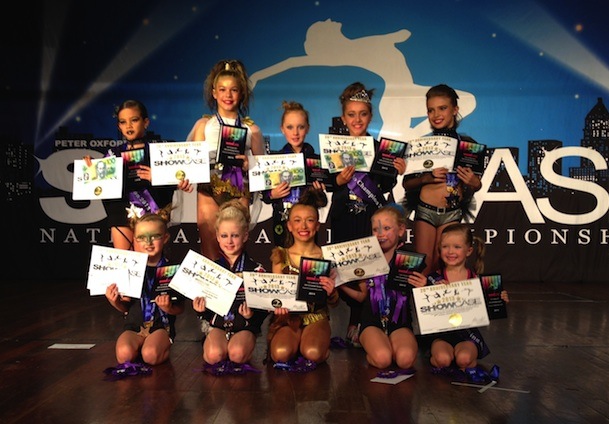 At the recent Showcase Championships in Sydney taking place Friday to Sunday, October 25 – 27, the competing dancers from Q2 Dance cleaned up. Winning first place awards across solo, duo and group divisions, the dancers even won the awards for most talented, most style and best choreography.
Q2 Dance, a dance studio based in Camperdown, Sydney, really shined in all categories at the recent competition, winning in numerous styles including jazz, contemporary, hip-hop and break. Director Shannon Hsu said that it was a lot of work, even for the parents and teachers, but all the hard work and preparation was well worth it.
"For the kids, it was exciting, fun and proof that hard work, dedication and passion definitely pays off," she said. "They have put in countless hours, missed out on parties, sleeping in and other 'normal' kid stuff due to their dedication. To see them rewarded for that was the greatest feeling for all of us."
The Showcase Championships took place in Sydney at Shell Harbour Workers Club. Now that the dancers have been awarded top prizes they will progress through to the National Showcase Dance Championships in January 2014 in Queensland at Jupiter's Casino.
For this last competition, the dancers prepared with extensive rehearsals, including many all-day practices. Dancers Luella Hogan and Bronte Carrington, both 11 years old, rehearsed for an average of 15 hours per week. The other girls did six hours a week on average. All of the girls train in various styles, from ballet to breakdancing. The studio staff believes the multitude of extra hours and training provides them with exceptional stamina, strength and a variety of skills.
Q2 Dance received the following awards for the solo performances of Bronte Carrington and Luella Hogan: 4/4 Gold awards, 3rd in Jazz, 2nd in Jazz, 3rd in Contemporary, Most Talented, Most Style, Best Choreography, 9th place in NSW and 6th place in NSW. For Carrington and Hogan's duo performances, they were awarded three gold medals, one high silver, 1st Place in Contemporary, 1st place in Jazz, 1st place in Musical Theatre and 2nd place in Tap.
The group performances featured Carrington, Hogan, Eleni Vlashos (aged 9), Scarlett Bisley (aged 10), Alix Morrant (aged 9) and Emily Mattochs (aged 9.) The group performances were awarded 3/3 gold medals and small group awards including 1st place in Jazz, 1st place in Contemporary and 1st place in Hip-Hop.
For more information on Q2 Dance, visit www.q2dance.com.
Photo: The Q2 Dance competitors after the Showcase Championships in Sydney. Photo courtesy of Q2 Dance.