'Performance Space: Score' at Carriageworks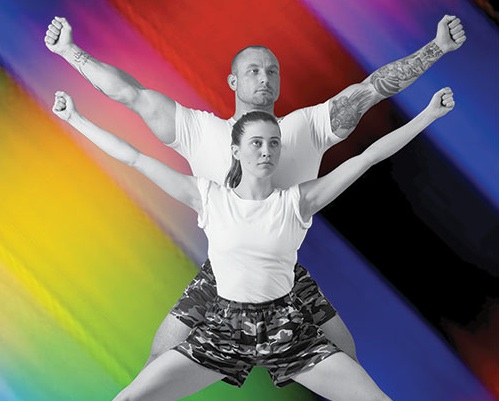 Running through September 7, dance and sound art in Sydney will be celebrated in Performance Space: Score, a festival where dancers perform alongside bodybuilders, symphonies emerge from metal saws and multi-sensory experiences emanate from transcendental orbs.
Presented by Performance Space (Australia's leading experimental arts organisation), this five-week festival features some of Australia's leading choreographers, composers and performers, cementing Carriageworks as the ideal destination for lovers of dance and sound-based works.
Performance Space: Score features exemplary performances and installations that place emphasis on the body in motion: where dance, movement and music come together. The festival boasts the return of Chunky Move to Sydney, plus Narelle Benjamin, Jon Rose with Ensemble Offspring, Force Majeure, Kris Verdonck, Pia van Gelder and more.
Jeff Khan, Performance Space's Artistic Director, believes an all-encompassing festival of dance and sound art is long overdue.
"New South Wales has an incredible dance culture, with brilliant independent choreographers, composers and dancers who we work with year-round, but there is currently no dedicated space to celebrate this culture. Performance Space: Score shines a spotlight on these artists, alongside our interstate and international guests," Khan said. "Currently no major organisation is solely dedicated to presenting dance and sound-based works, and we believe it's time to celebrate these art forms."
With multiple events taking place everyday, audiences can experience Performance Space: Score with a wallet-friendly daily double pass, or nab a season pass by becoming a PSpace member.
From the critically acclaimed, genre-defying Chunky Move comes Keep Everything on August 13-16. A fusion of dance and performance from one of Australia's most innovative choreographers, Anthony Hamilton, Keep Everything combines forces with ARIA award-winning musicians, Kim Moyes and Julian Hamilton. It splices choreography, electronica, spoken text and improvised movement to trace human evolution from primates to robots and back again.
Hiding in Plain Sight is a new full-length work by acclaimed NSW choreographer Narelle Benjamin that will be presented August 22-30. It comprises two solos performed in the same space with separate but overlapping timelines; each performer (extraordinary dancers Kristina Chan and Sara Black) subliminally present in the other's solo and overlapping at a meeting point centre stage.
A show with muscle – literally – Natalie Abbott's Maximum will test the boundaries between dance and sport on August 27-30. A rigorous work investigating the similarities and disparities between a dancer and bodybuilder, audiences will witness the human body being taken to its physical limits.
On August 20-23, Gail Priest and Jane McKernan will present One Thing Follows Another, a performative negotiation between the art forms of dance and music. McKernan does not always dance to Priest's music and Priest does not always make music to dance to. This balancing act of independence and collaboration is played out with more than a nod to the Fluxus movement and 1960's avant-garde.
Also, on August 13-16, Force Majeure will perform Culminate as the final stage of a two-year dance theatre laboratory which developed a new generation of culturally diverse dance theatre makers and performers in Australia. Following on from 2013's Cultivate, it opens up the laboratory to the wider dance sector through daily open classes, a one-off public performance, a season of showings and a public forum.
All performances will take place at Carriageworks, located at 245 Wilson Street in Eveleigh. For tickets via Performance Space, call 02 8571 9111 or go to performancespace.com.au/score.
Photo: Maximum by Natalie Abbott. Photo by Tin and Ed.