Open for The Australian Ballet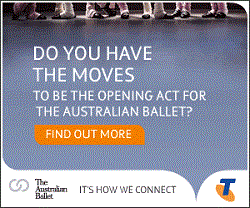 WANTED: A warm-up act for The Australian Ballet
Is your amateur dance troupe ready to be discovered? Grab this chance to open for The Australian Ballet in Brisbane on November 5.
All styles welcome. Includes flights, accommodation and transfers for troupes of 3-8 dancers, plus 2 chaperones if dancers are under 18.
To audition, upload a 3-min. video of a choreographed dance sequence performed to one of the selected music tracks at facebook.com/telstra
ENTRIES CLOSE SOON!