Ochre Contemporary Dance Company debuts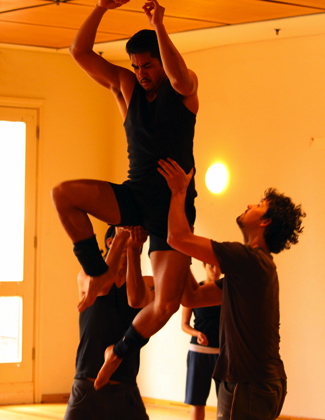 A new contemporary dance company located in Perth will present its first production and a world premiere on Thursday, Nov. 22.
Ochre Contemporary Dance Company, a new West Australian platform seeking to promote and sustain Aboriginal culture, was officially launched in May by the Minister for Culture and the Arts, the Hon. John Day MLA.
The company hopes "to bring Aboriginal and non-Aboriginal choreographers, dancers and arts professionals together to bring [audiences] stories that identify who we are, what our heritage is and our relationship to the land."
After six years of preparation and laying groundwork, the company is now presenting their first evening-length show, Diaphanous: seeing through and beyond.
This world premiere brings together two stories from two ancient cultures – an Aboriginal Wongi Dreaming tale and an ancient Greek myth. The Wongi Seven Sisters story comes from the Western desert and is choreographed by Tammi Gissell, descended from the Muruwari nation in New South Wales. The Greek Orion story is created by well-known Perth choreographer and dance artist Jacob Lehrer, who is creatively influenced by post-modern choreographers Deborah Hay and Steve Paxton.
These works will be followed by a new contemporary piece created by both choreographers. It seeks to compare and contrast the themes while exploring the threads that make up "our yarns, our lives, our stories."
Ochre Contemporary Dance Company hopes audiences will be enthralled by a journey into these two tales. Choreographers and dancers encourage viewers to "see through and beyond the stories themselves and into a world that unites all Australians, regardless of cultural origin."
Diaphanous: Seeing Through and Beyond will be premiered at 7:30 p.m. Thursday, Nov. 22 in the Studio Underground at the State Theatre Centre. Three additional performances will be offered Friday, Nov. 23 at 7:30 p.m. and Saturday, Nov. 24 at 2:00 p.m. and 7:30 p.m.
For more information on the company's six-year journey to these opening performances, visit www.ochredance.org.au.
To purchase tickets or for more show information, visit premier.ticketek.com.au.
Photo: Ochre Contemporary Dance Company in rehearsal. Photo by Berrycart Creative.