Nominate for 2013 Australian Dance Awards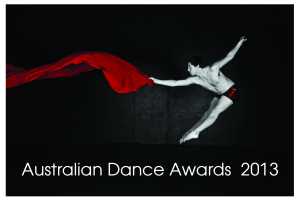 The 2013 Australian Dance Awards will be produced and presented by Ausdance ACT in Canberra on Monday, August 5, 2013.
Dancers and dance enthusiasts can now nominate a professional choreographer, dancer or company for an Australian Dance Award.
Professional performances that premiered, or have been remounted or recast, between Jan. 1 and Dec. 31, 2012 can also be nominated. Dancers and companies performing any work, even if it was not a premiere in this time period, can still be nominated for outstanding performance awards.
Award nominations are also being accepted for the Lifetime Achievement award and Services to Dance Education and Services to Dance. All applicable long-serving professionals can be nominated.
Before nominating, read and review the selection criteria for each award category at www.australiandanceawards.net.
If you are interested in submitting a performance nomination, check the 2013 eligible works list online. This list is compiled throughout the year by Ausdance staff and is intended to serve as a reminder. However, sometimes a work or an artist slips through the system and does not make it onto this list. So, for questions regarding the list, contact the nominations coordinator.
Nominations close Feb. 28, 2013.
Awards are decided through three means, public nominations, a selection panel and a final shortlist.
The four nominees with the most points in each award category become this year's Australian Dance Awards shortlist. The nominee with the highest score in each category is the winner.