Next Wave Festival's 2014 Launch Party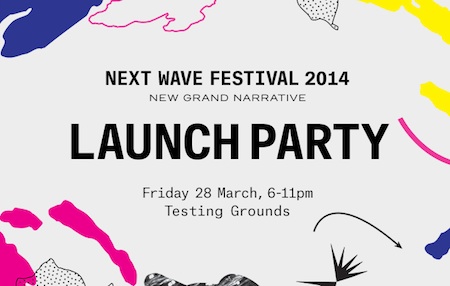 Next Wave unveils the 2014 Festival program with an explosion of art, music and mayhem at the Next Wave Festival 2014 Launch Party at Testing Grounds from 6 p.m. on Friday, March 28. Boasting a hawker food market, pop-up bars, art installations and 'micro' dance parties, revellers will be the first to hear about the much-anticipated Next Wave Festival 2014 Program.
Activating all corners of Testing Grounds, an open-air space sandwiched between Arts Centre Melbourne, Primrose Potter Ballet Centre and HWT Towers, the Next Wave Festival 2014 Launch Party is a free large-scale public event where Next Wave Festival aficionados and newcomers alike can mingle with Festival artists, staff and supporters.
The site will be transformed with art installations and video projections by Channels Festival, iPod DJs that will be streaming music through an archipelago of dance podiums made from recycled pallets, roaming performances from Next Wave Festival artists – and, as a special surprise for attendees, one top-secret, much-loved Australian entertainer.
For the adventurous, free surfing lessons will be conducted by Next Wave Festival artist Henry Jock Walker atop a mechanical surfboard and temporary tattoos and face-painting will also be available.
The adjacent Fanning Street will be closed to all traffic – with the exception Melbourne's favourite food vans. From tacos to road-side burgers, Fanning Street will become a make-shift hawkers market, wafting delicious smells and filling hungry bellies.
Testing Grounds is located at 1 – 23 City Road, Southbank. Hidden behind Arts Centre Melbourne, the site is easily accessed via the City Road overpass from St Kilda Road, just beyond Inge King's waves sculpture, Forward Surge, on Arts Centre Melbourne's lawn.
Next Wave Festival, Australia's biennial festival of emerging artists and ideas, unfolds in Melbourne from April 16–May 11. A city-wide, month-long celebration of cutting-edge arts and culture from around Australia and the globe, Next Wave Festival 2014 celebrates its 30th anniversary with a tightly curated selection of the most ambitious, risky and surprising new art, including performance, dance, visual art, sound art – and ideas impossible to categorise. For more information, visit nextwave.org.au.