New Energetiks Online Shopping Store + Free Shipping!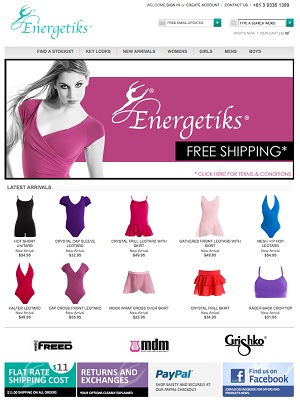 Energetiks has just launched their new super online shopping store, which has been in development for some time. We can see why! The site features a clean new fresh layout, which is very user friendly and easy to navigate. The new features include a 'Key Looks' section – see a complete Energetiks outfit then simply add the products the model is wearing to the basket. You can view each product in all the colours available, plus in most cases, see the product on and off a model.
To celebrate the launch Energetiks are offering free shipping on all online orders over $20 during June. (Excludes international orders.) Simply register as a new user, add all the items you desire to your shopping cart, then type the code FREESHIPPING into the promotional code box at the checkout.
We encourage you to go and take a look at how easy and fun online shopping can be on the new Energetiks website. www.energetiks.com.au