New Director for Sydney Festival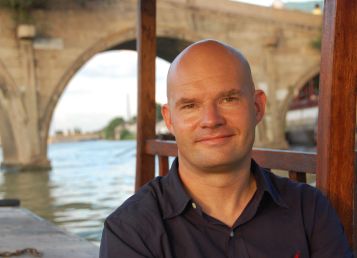 Sydney Festival has announced Lieven Bertels as the new Director for Sydney Festival 2013-15.
Lieven Bertels is currently Artistic Coordinator for Holland Festival, the Netherlands' oldest and largest annual arts festival. Bertels helped to re-establish the event as a leading presenter and producer of contemporary music, opera and non-western work.
NSW Premier The Hon Barry O'Farrell, who is also Festival President, congratulated Lieven Bertels on his appointment. "Lieven is one of the most creative and influential people working on the international festival circuit and it is with great delight that we welcome him as the new Director of Sydney Festival."
"The recent announcement of the Festival's $50.2 million contribution to the NSW economy reaffirms the Festival as one of Australia's premier and important arts events. I am confident that Lieven will take the helm with enthusiasm, ensuring that Sydney Festival will continue to grow under his leadership and guidance." Mr O'Farrell said.
Support also comes from The Hon. George Souris, Minister for Tourism, Major Events, Hospitality and Racing and Minister for the Arts. "Lieven is a fantastic choice to continue the line of inspiring and dynamic directors at Sydney Festival since its beginnings in 1977. Sydney Festival plays an important role not only for Sydneysiders, but also for national and international visitors as a drawcard to Sydney each summer. I'm sure Lieven is up for the challenge of continuing the extraordinary programs that Sydney Festival presents each year."
Over the last seven years, Bertels has extended the Holland Festival program to include popular music and visual arts; presented large-scale events aimed specifically at broadening the festival audience to embrace the Netherlands' growing ethnic communities; and delivered a 35% increase in turnover.
While at the Holland Festival, Bertels has worked with artists such as Mike Patton (Faith No More), Heiner Goebbels, John Baldessari, Pierre Boulez, Ryuichi Sakamoto and the Manganiyars.
"I've always been attracted to the unique mix of arts and entertainment that Sydney Festival offers. My mission is to bring the best and the boldest projects to Sydney's streets and stages and I'm grateful for this wonderful opportunity to add exciting new pages to the Festival's rich history," said Bertels. My family and I are thrilled to be moving to Sydney and I'm very much looking forward to working with the Festival team."
Chair of Sydney Festival, Lord Mayor and MP Clover Moore said the appointment is an exciting one. "Lieven comes to Sydney with a wealth of experience from Amsterdam, one of Europe's most vibrant cities. Both cities have festivals that invite the best of international music, dance and theatre, as well as embracing the full extent of their own diverse communities. Sydney Festival is one of our best loved annual events and I look forward to seeing how Lieven will enhance our magnificent city in summer."
Mr Michael Crouch AO, Executive Chairman of Zip Industries, Principal Sponsor of Sydney Festival, said, "I congratulate Mr Bertels and welcome him on his appointment as Director of the world's most wonderful summer festival."
Support for Bertels comes from peers and artists alike. Renowned festival and former Sydney Festival Director Brett Sheehy said, "Lieven is a terrific choice for Sydney Festival. I have long-admired his work at Holland Festival and this is a very exciting appointment for Sydney."
Mike Patton, frontman of the band Faith No More said, "My experiences have been nothing short of an amusement park! Thrilling, exciting, creative, surprising, and always a pleasure…you leave the ride with a shameless smile on your face! Lieven is fearless in his programming and presentations, with a fresh and musical energy and understanding that is rare among people in his position. His thirst and ultimate drive to make abstract ideas real is an inspiration."
Internationally distinguished theatre director and composer Heiner Goebbels (Hashirigaki at Sydney Festival 2004) said, "I have known Lieven for years, as a programmer and curator with great artistic competence, a world-wide networker, bringing exciting music and international performing arts – this goes perfectly together with Sydney Festival's rich platform, a beacon in the international festival landscape. A win-win appointment!"
Musician and performance artist Laurie Anderson added "The combination of the Sydney Festival and Lieven Bertels is electric, fantastic. He's a brilliant thinker and working with him in Bruges and Amsterdam was a great experience. Artists love working with Lieven. He has a unique ability to find the right audiences."
Born in Belgium, Lieven Bertels studied Musicology in Belgium and Composition in the United Kingdom. Prior to Holland Festival, Bertels was Artistic Director of Concertgebouw Brugge, an arts centre presenting a broad range of art forms, including, during Bertels' tenure, resident artists The Philharmonia London, violinist Viktoria Mullova, London Sinfonietta, Vladimir Ashkenazy, the DJ Eavesdropper and VJ Collective Visual Kitchen, alongside a selection of contemporary music, dance and theatre such as Bobby McFerrin, Sasha Waltz, Herbie Hancock and Tim Etchells. Bertels' earlier career includes work as a producer at Belgian National Cultural Radio Klara (focusing on jazz and youth audiences); Head of the Audio Department at the Brussels Film, Radio and TV School; and producing for record and radio companies including Decca, BMG Classics, Megadisc and BBC Scotland.
Bertels will move to Sydney in late 2011 to begin work on programming the 2013 Sydney Festival. The 2012 Festival will be the last of three festivals directed by Lindy Hume.