New dance spectacle comes to Sydney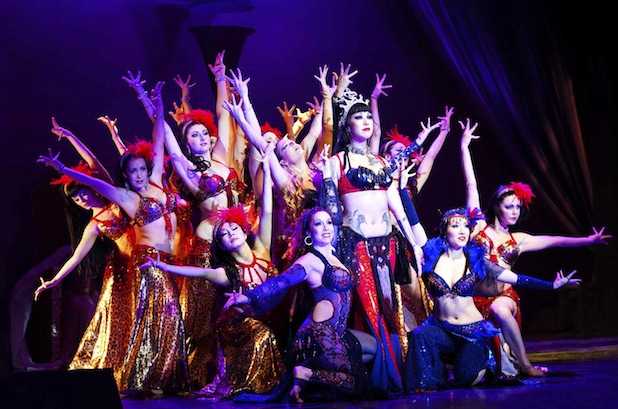 An extraordinary dance show is coming to Sydney direct from Los Angeles as part of an international tour. In this dance spectacle, no one is who they seem as a mystery unfolds of murder and deceit where love knows no bounds.
Featuring an all-star cast blended with local and international dance luminaries, the production of Dark Side of the Crown explores, celebrates and re-imagines Middle Eastern dance for the 21st century. This theatrical dance show – featuring world-renowned choreographer Jillina and a cast of international stars, Middle Eastern dancers, musicians and hip-hop artists – blends Eastern and Western dance in a dark tale.
Featuring a sumptuous mix of international culture and artistry from as far afield as Chile, Greece, Brazil, Italy, Japan, America, Moldova and Brunei, this production is produced by Bellydance Evolution.
Since 2009, Bellydance Evolution has performed to sell-out success and critical acclaim in L.A., New York, Seoul, Berlin, Budapest, Casablanca, Beijing, Taiwan, Hong Kong, Caracas, Buenos Aires, Mexico City, Milan, Rome, Prague and Tokyo. Now, for the first time, it brings its newest and most spectacular production to Australia.
Reviewer Michael Jaworek of The Birchmere wrote, "Jillina is certainly a 'superstar' in that genre and worthy of the name. Her dance and choreographic skills are brilliant."
Dark Side of the Crown has been described as "wildly acrobatic, fierce and crowd-pleasing." It will star choreographer Jillina as well as Kaeshi Chai, Louchia, Danielo Mendes, Twixx, Sharon Kihara, Heather Aued and Lauren Bolt.
The Australian cast includes local dancers Jrisi Jusakos, Jennifer Hughes, Rachel Bond, Johara, Tahira, Natalie Harvey, Devi Mamak, Candice Frankland, Badriyah, Natalie Nazario, Michelle Settmacher and Phynia Anastas.
Support acts will be performed by Underbelly Dance (Melbourne), Phoenix Belly Dance Troupe (NZ), Hathor Dance Theatre (Sydney), Sahara Dance Co (Brisbane), Belly Dance Adelaide and Ghawazi Caravan (Sydney).
The performance will be presented at Riverside Theatre Parramatta on Sunday, March 16 at 7:30 p.m. Dancers can also learn the repertoire at a dance workshop being hosted by Connect Studios Parramatta on Thursday, March 13 from 10 a.m. to 12:15 p.m. For more information, visit riversideparramatta.com.au.
Photo: Sharon Kihara, Jillina, Kaeshi Chai and chorus in Dark Side of the Crown. Photo by Bruno O'Hara.