New Dance Academy resource for teachers!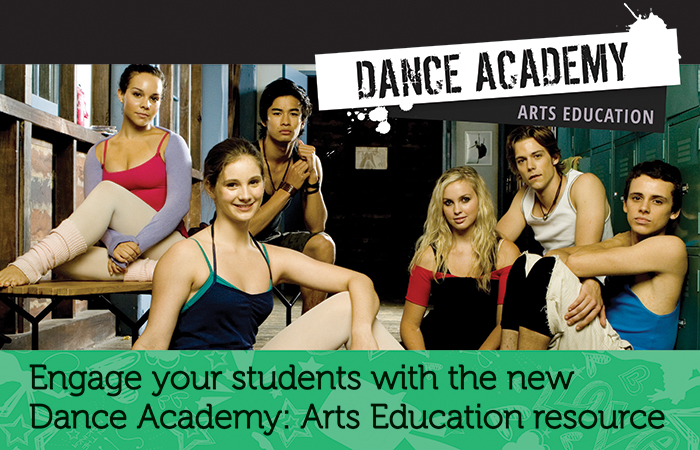 The Australian Children's Television Foundation (ACTF) and Ausdance Victoria are the co-creators behind a brand new arts website, developed to support teachers of dance both inside and outside of the classroom.
Dance Academy: Arts Education provides teachers with a range of engaging classroom activities, designed to enhance their students' knowledge, skills and understanding of dance, as both the artist and the audience.
The website features video clips and behind-the-scenes materials from the multi-award-winning Australian television series Dance Academy, stimulus for more than 100 activities that explore themes of Dance Skills, Dance Knowledge, Health and Wellbeing and Production.
Written by Ausdance Victoria, the activities provide an inspiring, contemporary approach to exploring elements within The Arts, with each activity developed in line with the new Australian Curriculum and focused on developing knowledge and practical skills of students across the Middle Years.
The teaching activities are also underpinned by additional supportive materials, including downloadable student activity sheets, instructional video clips, Ausdance Fact Sheets and external links to supporting arts-based organisations.
Dance Academy: Arts Education is a bonus resource that supports the recent release of Dance Academy to the Australian education market, with all three television series now available for schools to purchase for their library.
Dance Academy follows the journey of country girl Tara Webster and her friends at Sydney's National Academy of Dance as they work hard to achieve their dream of becoming a principal dancer. The series profiles an authentic collection of dance styles and dance skills, and weaves within its entertaining storylines issues relating to personal growth and development, friendship, health and body image – all important themes that are explored within the companion educational resource.
Access to the Dance Academy: Arts Education website is provided free with any Dance Academy series purchase from the ACTF Shop. A sample activity, Free Form, is also available to view in The Learning Centre of the ACTF website.
For more information on the new Dance Academy: Arts Education resource, visit www.danceacademy.edu.au. To purchase the resource, click here.