Move Through Life presents 'Illuminate 2015'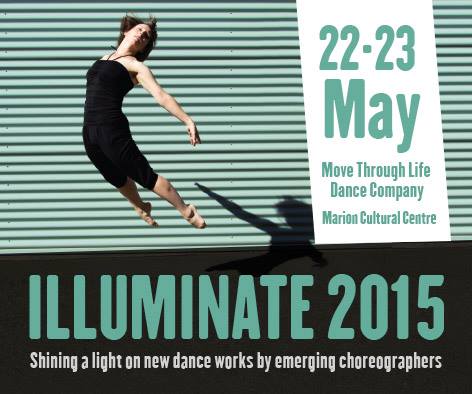 Move Through Life Dance Company is preparing to present Illuminate 2015, a program showcasing new dance works by emerging choreographers. The lineup includes a commissioned work from Katrina Lazaroff (the creator of Pomona Road, Involuntary and Wasted) plus two works from Associate Artistic Director Kirsty Duncan and a premiere by newcomer Rodney Cuthbertson.
Duncan's first work is On The Wind, a piece which all started on a lazy Sunday afternoon when she was sitting in her backyard. While daydreaming, she noticed a swarm of grassflies hovering over the lawn. At times the swarm seemed to float on the breeze, other times they darted in unexpected ways that intrigued her. The moment inspired her to create an abstract dance based on pure movement, set to the sounds of Zephyr Quartet. She found it refreshing to focus on movement without needing to represent any intellectual concepts or human feelings. On The Wind is lyrical and whimsical, and promises to be a pure joy to dance and watch alike.
Likewise, Cuthbertson's Routines is a light-hearted observation of our daily lives. It explores some of the journeys, emotions, habits, connections and people we surround ourselves with. The birds accompany the alarm clocks as another morning begins. Commuters on the tram give inspiration as we see the games we play with ourselves and each other. And technology gives us the ability to communicate and express ourselves as never before. Routines provides both introspective lens and collective filters to peek into.
On the other hand, Duncan's second work, We Were One, was inspired by a podcast about Aristophanes' speech in Plato's Symposium. Aristophanes tells of a myth that explains why we spend so much time searching for someone that will make us complete, searching for our soul mate. Aristophanes explains that originally, humans had two heads, four arms, four legs, but that the gods were threatened by how powerful these creatures were. So they split them in two, and now we wander around the earth looking for our other half. This promises to be a fascinating work that speaks to everyone's desire to have a companion.
Lastly, as a special treat, Katrina Lazaroff will present her newly created VULNER able, a dance theatre work about vulnerability. It explores the ways we hide our fears and put up masks to cover up how we really feel in order to appear strong and put together. It exposes the irony that it takes more courage to show our vulnerabilities than to hide them.
Don't miss Illuminate 2015, set for 7:30 p.m. on Friday and Saturday, May 22 and 23 at Marion Cultural Centre in Oaklands Park. Visit www.movethroughlife.org.au for more information or to book tickets.